Fla. sheriff defends his leadership after shooting
Sheriff Scott Israel appeared on CNN and denied any blame for his agency's missteps and touted his own "amazing leadership"
---
By David Fleshler
Sun Sentinel
ORLANDO, Fla. — Florida Gov. Rick Scott on Sunday asked the state Department of Law Enforcement to investigate the response to the Parkland school massacre, as questions mounted over the Broward County Sheriff's Office's handling of the shooting.
The announcement came just hours after Broward County Sheriff Scott Israel appeared on CNN and denied any blame for his agency's missteps and touted his own "amazing leadership."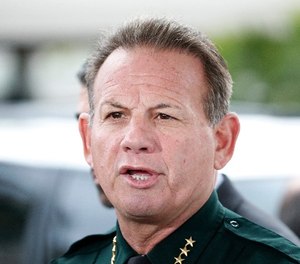 The governor's office said in a statement released Sunday that the investigation will begin immediately. It did not specifically name any law enforcement agencies. But the Sheriff's Office was the lead agency on the scene and criticism has swirled about how it handled the first few minutes after a former student opened fire at the school.
The Sheriff's Office has also been faulted for fumbling warnings of the shooter's volatile behavior and statements from those close to him that they feared he might go on a shooting rampage. It issued a statement Sunday saying that it welcomed the investigation.
"BSO will fully cooperate with FDLE, as we believe in full transparency and accountability," Israel said in a written statement. "This independent, outside review will ensure public confidence in the findings."
Appearing Sunday morning on CNN's "State of the Union with Jake Tapper," the sheriff said his agency was still investigating how multiple warnings about shooter Nikolas Cruz were missed and whether additional sheriff's deputies failed to enter Marjory Stoneman Douglas High School immediately when they arrived.
But he said the only known failure was on the part of the school deputy forced to resign last week for not entering the school building to confront the killer.
"Deputies make mistakes, police officers make mistakes, we all make mistakes," Israel said. "But it's not the responsibility of the general or the president if you have a deserter. We'll look into this. We're looking into this aggressively, and we'll take care of it, and justice will be served."
Tapper asked him: "Are you really not taking any responsibility for multiple red flags that were brought to the attention of the Broward Sheriff's Office about this shooter before this incident, whether it was people near him, close to him?"
"Jake, I can only take responsibility for what I knew about," Israel said. "I exercised my due diligence. I provided amazing leadership to this agency."
Tapper interjected: "Amazing leadership?"
"I have worked — yes, Jake," Israel said. "There's a lot of things we have done throughout this — this is — you don't measure a person's leadership by a deputy not going into a — these deputies received the training they needed. They received the equipment."
Cruz, 19, entered the school Feb. 14 with an AR-15 rifle and killed 14 students and three adults.
"One person — at this point, one person didn't do what he should have done," Israel said. "It's horrific. The victims here, the families, I pray for them every night. It makes me sick to my stomach that we had a deputy that didn't go in, because I know, if I was there, if I was on the wall, I would have been the first in, along with so many of the other people."
©2018 Sun Sentinel (Fort Lauderdale, Fla.)
McClatchy-Tribune News Service