Former Atlanta police chief named new Louisville chief
Erika Shields, who resigned from the Atlanta PD in June, was introduced Wednesday as the new Louisville police chief
---
By Christian Boone
The Atlanta Journal-Constitution
ATLANTA — When Erika Shields resigned as Atlanta's police chief in June, a leading national consultant predicted she would be pursued by departments nationwide.
"She's just the kind of chief I'd be looking for if I was leading the search for Atlanta," said Chuck Wexler, executive director of the Police Executive Research Forum. Ironically, Wexler is now leading a top-down review of APD training and policies and is likely to have some input on whether Shields' replacement, Rodney Bryant, will shed the interim tag.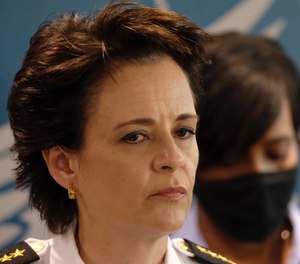 On Wednesday morning, Shields was introduced as the new chief of the Louisville Metro Police Department during a news conference.
She takes over a department under investigation by the FBI for the death of a young African-American ER technician, Breonna Taylor, inside her home last March. Taylor, 26, was shot six times after three white LMPD officers, investigating an illegal drug operation, entered her residence on a no-knock warrant. There was no evidence Taylor was involved in any criminal behavior.
Louisville police Chief Steve Conrad, facing widespread criticism for the department's handling of the case, was fired June 1 after the fatal shooting of black business owner David McAtee during a local protest against excessive force by police.
Shields resigned unexpectedly after the release of a video showing the lethal confrontation between two Atlanta police officers and Rayshard Brooks, who had aggressively resisted arrest for a suspected DUI.
Though she never specified her reasons for stepping down, a vast majority of APD officers say they believe Shields was forced out after she objected to the dismissal of Officer Garrett Rolfe — who shot Brooks in the back — without an investigation. Atlanta Mayor Keisha Lance Bottoms says only that Shields offered to leave and "I accepted her resignation. Period."
[READ: State your case: Should the public have a say in selecting a police chief?]
Shields has declined to elaborate. She remained on the city's payroll as deputy chief information officer, where she managed public safety initiatives for Atlanta Information Management.
She was one of more than 20 candidates to apply for the Louisville job. The city kept her appointment under wraps until the end, though Jessica Green, chair of the Metro Council Public Safety Committee, offered several hints in a statement released Tuesday.
The new chief, Green said, had previous experience leading a department in a "large metropolis" where they "held officers accountable and made tough decisions," implementing "progressive police practices."
"The people of Louisville, we are lucky to have this individual, and I am super excited that this chief will be ushering us into a new era," Green said.
Shields, the second female and first openly gay police chief in Atlanta's history, steadily worked her way up the department ladder, serving as a patrol officer, sergeant, lieutenant and major prior to her appointment to deputy chief. She was named chief in 2016, promising reform and vowing not to shy away from tough decisions.
Last January, Shields received criticism from officers and citizens alike after she halted police chases in most circumstances following a series of deadly incidents. The risk to innocent civilians was just too great, she said.
"Please know that I realize this will not be a popular decision; and more disconcerting to me personally is that this decision may drive crime up," Shields said in a memo to the department announcing the change. "I get it."
That policy was rescinded just last week. Officers can now engage in a vehicular pursuit when "they have direct knowledge" that the fleeing suspect has committed or attempted to commit a "forcible felony" and that the suspect's escape poses imminent danger, according to a statement from APD.
(c)2021 The Atlanta Journal-Constitution (Atlanta, Ga.)
McClatchy-Tribune News Service