How police leadership can respond to officer mental health crises
Officers need to be able to trust that the leaders of their organizations recognize the stigmas attached to accessing mental health treatment
---
By Joseph Collins and Michael Genovese, MD, JD
It started with a routine traffic stop on a snowy February evening in central Connecticut. After an approach, a conversation and perhaps a speeding ticket for the offender, this six-year veteran police officer – not yet halfway through a double shift – continued his Thursday night on duty. [1]
But after some standard field sobriety tests went poorly and the officer believed he had discovered narcotics in the suspect's vehicle, what once seemed procedural turned catastrophic. The suspect grabbed for the officer's gun, a struggle ensued and, five shots from the officer later, a convicted felon who was due in court the following morning for driving under the influence was dead.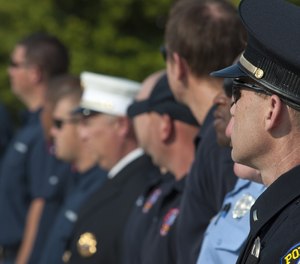 The officer's struggles were just beginning.
The interaction that started that saga wasn't unusual and, unfortunately, neither was what happened in the aftermath of this 2011 incident for Officer Justin Lord of the Wethersfield Police Department.
Following the shooting, Lord developed posttraumatic stress injury (PTSI) that lasted for years. It wasn't just the incident itself that traumatized Lord. The officer had to live through an investigation to determine if he was the perpetrator. He could have been charged with manslaughter.
An outside agency ultimately cleared Lord, and the officer eventually returned to work for a half-decade before retiring – but first, the Wethersfield Police Department told him to attend mandatory counseling. Lord says the mental health resources the department gave him saved his life. [2]
A 2016 Pew Research Center survey found that only 27% of officers said they have ever fired their service weapon on the job [3] – and far fewer have been directly involved in a fatal incident like Lord's –but the percentage who have experienced trauma on the clock is much, much higher.
A 2018 survey from the Fraternal Order of Police (FOP) and NBC New York asked nearly 8,000 active and retired officers from around the country to anonymously provide information about the challenges first responders face on the job. Nearly 80% said they had experienced critical stress in their line of work. [4]
But barriers to getting help can be overwhelming. An alarming 90% of respondents to the FOP survey said there is a stigma in law enforcement that serves as a hurdle to seeking help for behavioral health concerns. Nearly two-thirds of the officers surveyed said there are not even adequate mental health services available.
While attitudes regarding the significance of positive mental health have generally become more progressive in recent years, there remains a negative view of those who provide protection worrying about their own emotional well-being. Officers are worried their colleagues won't trust their judgment, that there will be a negative impact on their family dynamic, that their superiors will view them as unfit for their job, or that they will soon not have a job at all.
These barriers to better mental health aren't immovable. It just takes the changing of a collective mindset, the disposal of the "suck-it-up" mentality and the removal of some long-held biases.
The Hidden Impact of PTSI
For years, PTSI was an elephant in the room in law enforcement. Largely associated with soldiers returning from the traumatic experiences of war, PTSI could clearly correlate to the smaller-scale interactions police officers faced on a more regular basis, but there wasn't much concrete scientific data known behind how many first responders were affected – and how, exactly, it affected them.
As time has passed, we have data. At any given time, research shows that 15% of police officers in the United States have symptoms of PTSI (nearly five times the national average for American adults). [5]
PTSI alters the neural pathways in the brain as a result of exposure to trauma, but it's rarely a single act that contributes to this shift in the nervous system. These repeated stressful experiences are known as cumulative trauma, and they are even more likely to go unnoticed and untreated since they don't result from a singular event.
It's easier for a department to look at critical incidents like the one Lord witnessed and decide to institute mandatory protocols for counseling, a psychological evaluation, or other mental health treatment. But having proactive services in place that address internal concerns built up over time requires law enforcement agencies to adopt a much-needed growth mindset on mental health.
As of 2017, Chicago had just three therapists on staff to serve the approximately 13,500 sworn and unsworn officers in the city's police department. [6] By mid-2019, that number quadrupled to 12 as employee assistance program (EAP) contacts between department clinicians and police officers boomed from 12,000 in 2016 to nearly 25,000 two years later. [7]
Even that sudden shift, though, was more reactive than anything. Seven Chicago officers died by suicide between July 2018 and June 2019.
"The goal is to eliminate suicide throughout the department," Superintendent Eddie Johnson said at a June 2019 Chicago officer wellness summit. "That is a lofty goal, but I believe it is one that is worth striving for."
How can law enforcement organizations get there? It starts from the top down.
The Importance of Staying Ahead of the Curve
First responders and the leaders around them devote their professional lives to keeping citizens and their communities safe. But if the officers who are the very fabric of the public safety paradigm are at risk, the people they've sworn to protect will face more danger as well.
It's the responsibility of law enforcement leaders to recognize this and do everything in their power to prevent it from happening. That means creating a culture that supports the concept of vulnerability. If every officer knows that sometimes it's OK to not be OK, that eliminates the stigma from within. That doesn't mean eliminating resiliency; it means promoting empathy and understanding.
There are seven important ways to make the mental health of your officers a top priority.
1. Throw preconceived notions out the window. A big part of being a good leader is identifying your blind spots. As public awareness of the importance of positive mental health continues to grow – and, given the COVID-19 pandemic, it will be on an upward trajectory for a while – the spotlight on how law enforcement agencies handle the well-being of their officers will shine brighter. If you don't know what best practices are, ask. Educate yourself. Seek out different perspectives that can help you implement effective strategies.
2. Establish peer support groups. While outside help is better than no help at all, nothing breaks down barriers more than officers seeing a window into their colleagues' psyches. And these groups should not just be in place to address critical incident stress. In the FOP survey referenced earlier, only one-third of respondents had ever reported utilizing a peer support service – but three out of four of those who did found it helpful.
3. Set up an Employee Assistance Program (EAP). EAPs aren't uncommon, but they're often underutilized. Many organizations haven't taken the time to truly understand what resources EAPs can offer and haven't fully developed relationships with their EAP providers. The Chicago Police Department's EAP, for instance, extends these free services to families of active officers and retired department members.
4. Utilize free resources. Acadia Healthcare's Treatment Placement Specialists team offers complimentary treatment guidance and referrals for first responders and their families who need behavioral healthcare services. [8] It's an easy way for organizations large and small to have vetting of potential treatment options done for them, and having partnered with the FBI National Academy Associates (FBINAA) and Officer Safety and Wellness Committee (OSW), TPS contains a bevy of experience from law enforcement officers who have been on the front lines.
5. Ensure regular check-ins beyond what's already in place. Several years ago, the psychological services committee of the International Association of Chiefs of Police (IACP) recommended regular, routine psychological wellness checks for all public safety employees. This is a good way to make sure nothing slips through the cracks, and by normalizing these reviews, peers may be more willing to discuss mental health concerns with one another.
6. Focus on education. Learn from the past, and look toward the future. Study how law enforcement leaders handled the aftermath of prominent events, and be proactive in establishing guidelines for major incidents. The National Alliance on Mental Illness (NAMI) wrote a guidebook for police chiefs on how to protect officer mental health in the early days after a mass casualty event following the Sandy Hook Elementary School shooting. [9] While no one wants to experience similar large-scale trauma, the lessons learned can be vital even to smaller agencies. NAMI and the IACP are great resources to stay current on evidence-based law enforcement practices that focus on mental health.
7. Keep asking questions. Are your supervisors trained to recognize signs of chronic stress? Do your officers understand the extent of their insurance benefits when it comes to counseling or treatment for mental health or substance use disorders? Do you provide resilience education? Do you have a culture that promotes self-care? Do you have a mechanism in place for family and/or spousal support? Are you consistently disseminating information in a way that reinforces your support for officers who are seeking help?
Are you part of the problem or the solution?
Perhaps the most important question to ask is this: Are you part of the problem or part of the solution?
Honor Wellness Center, a Connecticut-based nonprofit, is the latter. Founded in 2017, this outpatient center provides first responders, veterans and their families with evidence-based treatment that addresses chronic and progressive addiction, mental health and traumatic experiences.
After his 2011 incident, Lord found himself connected with Phyllis DiGioia, [10] a licensed clinical social worker who would found Honor Wellness Center and serve as its executive director in the coming years. The organization's board features nine other members, six of whom are active or retired first responders and all of whom have a personal or professional connection with mental health or law enforcement. [11] Most have served in leadership positions.
The goal is to break down barriers to mental health services and give first responders a chance to talk to those who have had similar experiences, as opposed to a general practitioner or therapist.
"It's a very unique, unusual culture in public safety, whether it is fire service or law enforcement," Christopher McKee, a retired captain with the Suffield (Connecticut) Police Department and board member at Honor Wellness Center, told the Hartford Courant. [12] "We need a certain level of trust in those that we work with, those we confide in."
At the end of the day, police officers and other first responders need to be able to trust the leaders of their organizations to recognize the inherent obstacles and stigmas attached to mental health treatment in the law enforcement world. They need to be able to see a consistent growth mindset toward departmentwide access to psychological services. They need to be able to walk into work and feel comfortable and confident that if they are involved in traumatic situations – singular or cumulative – help is available with no strings attached.
We're making strides to get there. But there is work left to do.
References
1. Connecticut State Division of Criminal Justice. Report of the State's Attorney for the Judicial District of New Britain Concerning the Death of Samuel Victor McLeod in the Town of Wethersfield on February 1, 2011.
2. Besthoff L. Police Officer PTSD: Former Officer Opens Up About His Struggles.
3. Morin R. and Mercer A. A closer look at police officers who have fired their weapon on duty. Pew Research Center.
4. Fraternal Order of Police and NBC New York. Report on FOP/NBC Survey of Police Officer Mental and Behavioral Health, 2018.  
5. Violanti, J. PTSD among Police Officers: Impact on Critical Decision Making. Community Policing Dispatch, 2018. Volume 11, Issue 5.
6. Kim K. Police Grapple, Make Changes in Midst of Officer Suicide Crisis. NBC Chicago.
7. Smith P. Chicago Police Officers Seeking More Help From Department Therapists. WBEZ Chicago.
8. Acadia Healthcare. Specialized First Responder Treatment Services. 
9. Usher L, Friedhoff S, Cochran S, Pandya A. Preparing for the Unimaginable. National Alliance on Mental Illness, 2016.
10. Farrell, M. Proud to Serve: Honor Wellness Center in Manchester. Fox 61.
11. About Us. Honor Wellness Center.
12. Porter M. Honor Wellness Center aims to help serve the mental health needs of first responders. Hartford Courant.
---
About the authors
Joseph "Joe" Collins is a 35-year law enforcement veteran who retired in 2020 from the Two Rivers (Wisconsin) Police Department as chief of police. He is a graduate of the 236th session of the FBI National Academy and was the 2015-2016 president of the Wisconsin FBI National Academy Associates (FBINAA), where he served five years on the executive board. He has previously served as co-chair of the FBINAA's Officer Safety and Wellness Committee and as a member of the FBINAA Finance Committee. He is a master instructor with the FBINAA's Comprehensive Officer Resilience Train-the-Trainer Program and serves as a consultant for the U.S. Department of Justice as a subject matter expert in officer resilience. As a strategic account manager and public safety liaison with Acadia Healthcare's Treatment Placement Specialists team, he provides specialized treatment guidance for public safety personnel, first responders, and families who find themselves in personal crises.
Michael Genovese, MD, JD, is a clinical psychiatrist, addiction specialist and the chief medical officer of Acadia Healthcare. He previously served as the medical director of the Officer Safety and Wellness Committee of the FBI National Academy Associates, helping to equip first responders with the tools they need to withstand, recover, and grow following repeated trauma. He is a diplomate of the American Board of Psychiatry and Neurology and a member of the American Medical Association, the American Psychiatric Association, the American Academy of Addiction Psychiatry and the American Society of Addiction Medicine.