NYPD appoints new chief of transportation
Chief Philip P. Rivera is a 28-year NYPD veteran who has served in several commanding officer roles in different precincts
---
By David Luces
Staten Island Advance, N.Y.
NEW YORK CITY — Police Commissioner Edward A. Caban announced the department has appointed a new chief of transportation on Friday.
Philip P. Rivera, a 28-Year veteran of the NYPD, will take on the role.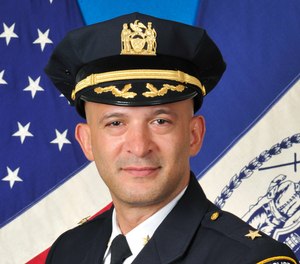 The appointment is a key operational position critical to the safety and security of motorists, passengers, cyclists and pedestrians throughout the five boroughs, according to the department.
Rivera joined the NYPD in June 1995 and began his career on patrol in the 46th Precinct in the Bronx. He also served in the 30th Precinct in Manhattan, the 41st, 44th, 46th, and 52nd Precincts in the Bronx, Patrol Borough Bronx and the Bronx Impact Response Team.
He would continue to rise through the ranks and in 2020 was promoted to assistant chief.
Rivera had stints serving as Commanding Officer of the 41st and 46th Precincts, and of Patrol Borough Manhattan North and Patrol Borough Bronx. He also served as executive officer of the 52nd Precinct and Patrol Borough Manhattan North and, most recently, the Office of the Chief of Department.
In his new role, Chief Rivera will head the police department's Transportation Bureau, which manages traffic control citywide and oversees the NYPD's Highway District, Traffic Operations District and Traffic Enforcement District, among other units.
"I am privileged to elevate this distinguished leader to our executive staff," said Caban in a statement. "Over nearly three decades, [Rivera] has shown exceptional vision in guiding the NYPD to many accomplishments. He is a consummate professional who uniquely reflects the values and concerns of the civilian and uniformed members of our police department, and of all the people we serve."
___
(c)2023 Staten Island Advance, N.Y.
Visit Staten Island Advance, N.Y. at www.silive.com
Distributed by Tribune Content Agency, LLC.
McClatchy-Tribune News Service