Philly police commissioner resigns to join Port Authority of New York and New Jersey
Danielle Outlaw will step down this month to become the bi-state agency's deputy chief security officer
---
By Larry Higgs
nj.com
PHILADELPHIA — Philadelphia Police Commissioner Danielle Outlaw will resign from that post to take a new job with the Port Authority of New York and New Jersey, moving from the City of Brotherly Love to the Big Apple.
Port Authority officials announced Tuesday she will become the bi-state agency's deputy chief security officer as Philadelphia Mayor Jim Kenney simultaneously announced her resignation.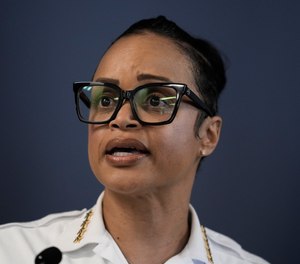 Authority officials also named Michael Harpster, veteran FBI Special Agent in Charge of New York and Philadelphia offices, as director of the security operations department, along with the creation of a new security technology and programs department.
Outlaw's resignation is effective on Sept. 22. The appointments come as the 22nd anniversary of the 9-11 terrorist attacks on the World Trade Center will be observed in less than a week. She is starting her new job at the Port Authority at the end of the month, an authority spokesman said.
She was the first Black female commissioner to run Philadelphia's 6,000-person police force. She transitions to an agency that runs airports, bridges and tunnels and a bi-state rail transit system with an $8.3 billion budget that is larger than that of eight states. The authority allocated nearly $1 billion this year to improve safety efforts at the agency's transportation facilities and strengthening the agency's cybersecurity.
Outlaw departs months before Kenney's two terms end. She leaves the police commissioner post amid some controversy about the handling of protests and an increase in gun-related crimes, the Associated Press reported. Kenney blamed lax gun laws in his statement about her resignation.
"Commissioner Outlaw has worked relentlessly for three-and-a-half years during an unprecedented era in our city and a number of crisis situations, and she deserves praise for her commitment to bring long-overdue reform to the department after years of racism and gender discrimination prior to her appointment," Kenney said in a statement. "We wish her success in her new position."
As part of the authority's Office of the Chief of Security, Outlaw will provide "central oversight of major security functions, including emergency management, cybersecurity and public safety," with Chief Security Officer Greg Ehrie, officials said.
They cited her decades of experience with police agencies in Oakland, California, two years of service with the police department in Portland, and, most recently, as police commissioner of the Philadelphia Police Department.
Harpster's focus will be overseeing security operations at all Port Authority facilities, implementing security plans for the authority's vital transportation hubs.
"These exceptional talents have their finger on the pulse of a high stakes, constantly shifting security universe," Ehrie said in a statement about the appointments. "We are honored to be able to fortify our team with professionals from law enforcement's top levels, who understand the unyielding importance of keeping our region safe."
Since 9-11, Port Authority facilities have been the targets of thwarted terrorist plans, including a Dec. 11, 2017, detonation of a pipe bomb in a subway corridor under the Port Authority Bus Terminal in midtown Manhattan.
In September 2019, a nine-count federal indictment revealed that a Morristown man trained by Hezbollah had scouted the bus terminal, the George Washington Bridge and metro region airports, in addition to others to "determine how a future attack could cause the most destruction," authorities said.
©2023 Advance Local Media LLC.
Visit nj.com.
Distributed by Tribune Content Agency, LLC.
McClatchy-Tribune News Service