Police chief: LAPD will not help deport immigrants under Trump
Chief Charlie Beck said he has no plans to change the LAPD's stance on immigration enforcement, despite Trump's pledge to toughen federal immigration laws
---
By Kate Mather
Los Angeles Times
LOS ANGELES — Los Angeles Police Chief Charlie Beck said Monday that he has no plans to change the LAPD's stance on immigration enforcement, despite President-elect Donald Trump's pledge to toughen federal immigration laws and deport millions of people upon taking office.
For decades, the LAPD has distanced itself from federal immigration policies. The LAPD prohibits officers from initiating contact with someone solely to determine whether they are in the country legally, mandated by a special order signed by then-chief Daryl Gates in 1979. During Beck's tenure as chief, the department stopped turning over people arrested for low-level crimes to federal agents for deportation and moved away from honoring federal requests to detain inmates who might be deportable past their jail terms.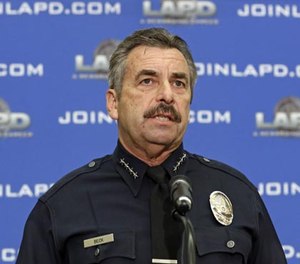 On Monday, Beck said he planned to maintain the long-standing separation.
"I don't intend on doing anything different," he said. "We are not going to engage in law enforcement activities solely based on somebody's immigration status. We are not going to work in conjunction with Homeland Security on deportation efforts. That is not our job, nor will I make it our job."
Fear among immigrants and their families has rippled across the country in the days following Trump's election to the presidency. Trump made illegal immigration a central issue of his campaign, vowing to build a wall along the U.S.-Mexico border, deport people who are in the country illegally and unwind immigration relief created under President Obama.
In Los Angeles, officials have tried to alleviate some of those concerns by signaling their support for the city's immigrant residents. At a meeting Friday at the Coalition for Humane Immigrant Rights of Los Angeles, Mayor Eric Garcetti said the city would question Trump's decisions on immigration.
"If the first day, as president, we see something that is hostile to our people, hostile to our city, bad for our economy, bad for our security, we will speak up, speak out, act up and act out," Garcetti said.
The mayor also said that the LAPD would continue to enforce Special Order 40, the Gates-signed directive that bars officers from contacting someone solely to determine their immigration status.
"Our law enforcement officers and LAPD don't go around asking people for their papers, nor should they," he said. "That's not the role of local law enforcement."
Beck said his command staff has also been meeting with community leaders to hear their concerns about immigration enforcement.
"This is the same LAPD you had Monday, a week ago. We have not changed because of the election on Tuesday. We have the same principles. We have the same values," he said. "This is not going to change the way that the Los Angeles Police Department enforces the law."
Times staff writer Dakota Smith contributed to this report.
McClatchy-Tribune News Service