Racist note sent to Pa. State Police commissioner nominee
Handwritten note arrived in Col. Marcus Brown's suburban Harrisburg mailbox on Monday night amid an increasingly ugly battle over Brown's nomination
---
By Marc Levy
Associated Press
HARRISBURG, Pa. — A note apparently hand-delivered to the home mailbox of Gov. Tom Wolf's nominee for Pennsylvania State Police commissioner has raised the issue of race in one of the nation's largest police forces.
The handwritten note arrived in Col. Marcus Brown's suburban Harrisburg mailbox on Monday night amid an increasingly ugly battle over Brown's nomination to lead the state police.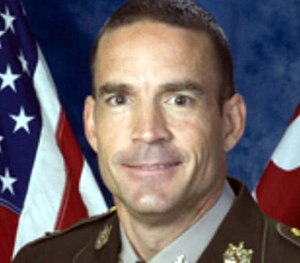 It said: "No (racial epithet) lover will wear my uniform." It was signed "didnt-dont," an apparent reference to criticism by retired troopers of Brown's decision to wear the state police uniform despite not having graduated from the State Police Academy, as every trooper must.
Brown, a former Baltimore police officer and superintendent of the Maryland State Police, has touted his commitment to recruiting minorities into the police force. He also has drawn criticism from retired state troopers after his suggestion last September following turmoil in Ferguson, Missouri, over the fatal shooting of an unarmed black man that the militarization of police escalates civil disobedience.
Brown, who is acting commissioner, gave the note to local police, and says it does not reflect the character of the Pennsylvania State Police he has met.
"I have worked in law enforcement for nearly 25 years and there is no doubt in my mind that every one of my colleagues would find this letter as disgusting and disturbing as I do," Brown said in a written statement.
A retired state police corporal who is a leading critic of Brown's questioned the motivation to release the note publicly. "That is not how the Pennsylvania State Police handles any threat toward any of our members," said Tom Stuckey. "It just seems very political."
In light of the note, a top Senate Democrat wrote to Wolf on Wednesday to urge him to stand behind Brown.
Sen. Vincent Hughes, D-Philadelphia, said Wednesday that the letter is unacceptable and he tied it to Brown's commitment to recruiting minorities. It is of particular concern because the percentage of non-white Pennsylvania state troopers has dropped to 6 percent from 20 percent in 1999, Hughes said.
"I don't know that that letter came from a trooper in the Pennsylvania State Police and I'm not calling the members of the Pennsylvania State Police racist," Hughes said. "But what I do know is that we're at 6 percent and that number's got to be made better and we have got to be in a position where we rush aggressively against the attitude that was represented in that letter. ... The best way to address it now is to quickly confirm him."
Brown's nomination is before the Republican-controlled state Senate for confirmation. No vote is scheduled, and Brown can continue to run the agency as its acting commissioner without Senate confirmation.
Opposition to Brown's nomination drew greater media attention after police began investigating a claim last week that he was caught on video removing two roadside signs criticizing him for wearing the uniform. The signs were put there by a retired state trooper from western Pennsylvania who says his free speech rights were violated.
Brown apologized, but the troopers' union and top Senate Republicans called on Wolf to withdraw Brown's nomination. Wolf has refused.
A Senate Republican spokeswoman said, "The note has nothing to do with the concerns we have over the decisions that Col. Brown has made and the pattern of poor judgment he has displayed." Those concerns include the shutdown of a busy Maryland highway last year during a manhunt while armed officers, including state troopers, walked car to car with guns drawn.
Copyright 2015 The Associated Press