Reducing homelessness: Police collaboration with transitional shelters may be key
Government-funded shelters and communities find success with housing-first, low-barrier approach
---
This article is based on research conducted as a part of the CA POST Command College. It is a futures study of a particular emerging issue of relevance to law enforcement. Its purpose is not to predict the future; rather, to project a variety of possible scenarios useful for planning and action in anticipation of the emerging landscape facing policing organizations.
The article was created using the futures forecasting process of Command College and its outcomes. Managing the future means influencing it – creating, constraining and adapting to emerging trends and events in a way that optimizes the opportunities and minimizes the threats of relevance to the profession.
By Mike Hale
The U.S. Department of Housing and Urban Development (HUD) estimates there are more than half a million people in the United States experiencing homelessness.
Homelessness is a complicated issue with no easy solutions; however, transitional shelters coupled with collaboration among key stakeholders could be a solution for communities.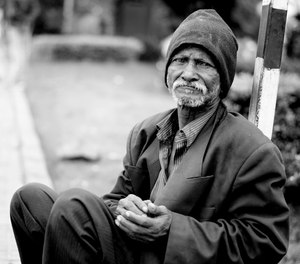 Transitional shelters
Transitional shelters are used as a means of getting people, who are truly ready, off the streets. Once the person is in the shelter, they must learn how to live in a house again before having the opportunity to be transitioned into longer-term housing.
One form of shelter is a transitional shelter with a "low-barrier" concept that specifically addresses those hard-to-reach persons who are resistant to shelters due to traditional barriers to entry such as intoxication, drug addiction, pet ownership, being in the company of significant others, medical issues and mental health matters.
When law enforcement is part of the collaboration in these shelter systems, there is the potential for better outcomes because the police can work with homeless populations and advocates to encourage those hard-to-reach or reluctant persons to accept a referral into a shelter. The police can help facilitate homeless individuals to be matched with available transitional shelters. With their daily interaction with the homeless, police officers who are intimately familiar with a transitional shelter's amenities can start the referral process at the point of contact with persons experiencing homelessness. Officers' efforts can sell the idea of sheltering and make it more appealing by describing programs, positive outcomes and success stories that may help – even for shelter-resistant individuals.
Some organizations or communities might think these ideas are good but don't know where to start. One city's experience can help guide those who want to consider transitional housing and can serve as an example of how partnerships were formed and what is possible with a goal in mind.
Case study: Bakersfield, California
The City of Bakersfield, California, purchased land and partnered with a private shelter organization to develop one of the first low-barrier and transitional shelters in the region, the Mercy House - Brundage Lane Navigation Center (BLNC). The BLNC was opened in October 2020, funded almost entirely by local government. It includes partnerships with on-site staffing from Kern County Mental Health and the county hospital, Kern Medical.
Within one month of the BLNC being open, it served 61 persons and housed four individuals who were ready to leave life on the streets.
The shelter offers job training with a culinary program and has partnered with a local restaurant to provide jobs for those who complete the training. Residents are provided free transportation to and from job sites, job training, resume services and interview preparation. They also can obtain clothing suitable for job interviews at no cost and have access to employment opportunities through the street ambassador program where homeless persons provide cleaning services in the community, ranging from picking up debris to cleaning with high-pressure washers.
Additional opportunities exist through a state partnership with the shelter and the city to clean freeway embankments. The city helps facilitate these opportunities by providing transportation, supervision and logistics.
The BLNC's guiding philosophy is straightforward – get more people off the street into housing through the transitional shelter process, and for those individuals to become productive members of society.
The impact of the BLNC
With the COVID pandemic in 2020 and the BLNC being a new shelter, the first-year data is likely skewed; however, data does show a positive correlation to the use of a low-barrier and transitional shelter philosophy.
According to the Bakersfield Police Department's Crime Analysis Unit data, compared to two other shelters that have been in existence since the 1950s and early 1990s, the BLNC had fewer police calls for service to the shelter thus far in 2021. Overall call volumes for the new shelter from January 2021 to June 2021 are 64% lower compared to Bakersfield's oldest shelters, and 22% lower than one of the shelters in operation since the 1990s.
To continue this success, officers need to be familiar with the local shelter programs and systems so they can advocate on behalf of the shelter to encourage people to participate in programs like job training, employment opportunities and other related programs that ultimately help get people off the streets.
For the BLNC to continue with positive outcomes, staff should market its success through local media, public officials and the community. The BLNC should also continue looking for partnership opportunities to build a more robust transitional shelter that makes the transition easier for patrons and more appealing for people to consider use of the shelter.
ADDRESSING MENTAL HEALTH
Mental health is an important in-house option for a full-circle transitional shelter. Many homeless persons are impacted by mental health issues and require services, especially in a shelter setting. Persons who have mental health issues require consistent care through counseling, medication and other programs.
Progressive transitional shelters, such as the BLNC and the Substance Abuse and Mental Health Services Administration, recommend the use of on-site mental health and medical care workers to keep individuals in the shelter for those needs, hopefully alleviating the concerns of neighbors who fear added police calls related to persons moving in and out of the shelter property. With mental health care on-site through a partnership with local county government, private shelters can keep most services in-house, thus keeping persons in the shelter and reducing the impact on police and the adjoining neighbors.
Shelters like Santa Ana's Homeless Multi-Service Center, which utilizes a county-contracted mental health service program, offer evaluation, individual services and group services. This approach means a shelter can begin to transition someone with mental health issues, and the in-house process can triage and immediately begin mental healthcare, keeping the resident in the shelter while undergoing treatment.
In May 2019, I toured the 40 Prado Homeless Services Center in San Luis Obispo, California. During the tour, several staff members presented information about their program, including the fact that their transitional shelter requires patrons to take care of the facility through shelter programs, and patrons receive on-the-job training related to cleaning the shelter, basic responsibilities, and maintenance. The hope is that the individuals are less likely to be part of the problems in the community or to participate in quality-of-life crimes that police are tasked with handling.
When shelters utilize a low-barrier philosophy and, at the same time, create an environment built for success and patron responsibility, the likelihood of positive outcomes increases.
Bakersfield city staff conducted many community meetings to include business owners in the planned shelter. Although there were many concerns with the shelter, city staff, in conjunction with key stakeholders, worked to develop best practices based on visits to many shelters in California. This was designed to help with gaining support from the community and especially nearby businesses to reduce resistance or quell not-in-my-backyard conversations.
Conclusion
Although there is a need for law enforcement to focus on issues that are strictly police matters, homeless issues and related crimes will inevitably be handled by law enforcement as first responders. If there are relationships between shelter collaboratives and law enforcement, they can have a true impact on homelessness and the associated issues most communities have yet to resolve.
NEXT: How a California agency is shifting thousands of homeless calls from police to a new team
---
About the author
Mike Hale is the acting assistant chief of police for the Bakersfield (California) Police Department. He has a bachelor's degree in organizational management and a master's degree in public policy administration and is a California POST Command College graduate.