RISE Award Nominee: How a Fla. Sgt's leadership builds close, confident cops
Sgt. Gavette doesn't put his rank before his badge when mentoring his officers
---
Congratulations to the University of Central Florida Detective Sgt. Christopher Gavette on his nomination for TASER and PoliceOne's first-ever RISE Awards in the 'Leadership' category. Gavette's commitment to his officers and creating a familial sense of community is what has his officers praising his leadership style. Nominations closed Sept. 15. We'll be announcing the winners shortly! 
Officer Frank Imparato had only been with the UCF police for two years when the call came out. At first it was just a fire alarm — not uncommon for a mostly-intoxicated college campus in the late hours of St. Patrick's Day.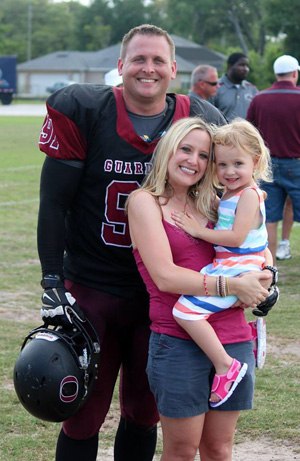 But then a 911 call followed; a UCF student told a dispatcher his roommate had a gun. Imparato felt his nerves tingle as he approached the dorm tower on foot where the caller resided. Still a rookie, a call like this was rare for his agency — and daunting. But he knew it was Sgt. Christopher Gavette that would be backing him up, and that made all the difference in the world.
"He [Gavette] saw that I was uncomfortable, but he was so calm and collected that he made me calm," said Imparato. "He told me to focus on tactical breathing and came up with a plan: 'I'm going left, you go right, you do what you need to do.' I remember thinking, we're good, we're going to get out of this together."
After setting up a perimeter and reaching the caller's door, the officers ID'd themselves, but had to force their way in when the terrified caller refused to approach the door. Gavette and Imparato went room to room (the dorm space had four bedrooms and a common area) clearing them until they reached the last room.
Gavette said they later discovered that the gunman had done an internet search for police response time and had concluded he had an average of 18 minutes to carry out his attack on UCF students. But Imparato and Gavette had cut that time by nearly fifteen minutes, foiling his plan before it started.
The only life he had time to take was his own.
Let Them Fly
The trust that Imparato had found in himself to approach the dorm tower that night was the result of two years under Gavette's command.
"He helps officers find their own niche and shows them how to go about doing it," said Imparato.  "He would listen, then sit down and give you some pointers. He'd say, 'Here's what you should look for.' It was never 'I'm the sergeant and this is what you're going to do.' It was always just 'let me give you some ideas.' The whole squad always works as a team and there is rarely a distinction between sergeant and officer."
Sgt. Gavette agreed that rank had very little to do with his leadership techniques.
"It's always been about letting the guys know we've all been there, we're human; as long as we're not making the same mistakes over and over again, " said Gavette. "I look at them as teammates; I don't put the rank before the badge. Each officer works a call differently, so I get to know them each on an individual level and see how they handle calls."
Gavette discovered that Imparato, for example, enjoyed working the traffic enforcement beat and wanted to aim for the 'Click it or Ticket' award, so he shared the goal with the other members of the department, encouraging them all to help Imparato reach his goal, which he did.
"At nightly briefings he would tell officers, 'Let's see if we can help Frank out.' He'd even come out and do it with me."
Now at only three years in, Imparato is the agency's DUI instructor, a MADD Award recipient for DUI enforcement, the 'Click It or Ticket' recipient, and the subject of multiple letters of commendation.
"If I didn't work under [Gavette] I wouldn't be where I am. And it's only been three years. I can't wait to see what other doors open."
When asked where his leadership skills come from, Gavette responded, "You take the things you like about people and you keep what you like and you dismiss what you don't. You find what fits with your personality and tailor it the person in front of you.  
"You don't want to show up just to collect a paycheck. I want the guys to feel like they're having a good time. We're more efficient, more effective – especially during critical incidents – when we feel like we're a family."
Family First
Everyone who knows Sgt. Gavette knows that family comes first. His own family, his officers' families, and his family in blue.
The gunman at UCF was Imparato's first taste of a critical incident of that caliber. When it was all over, Gavette's biggest concern was how his officer was feeling.
"Everyone at some point asked if I was okay, but he was the only one that night right after it happened to come up and ask, 'how are you doing?' We went and talked about what happened."
Imparato, husband and father of two, says Gavette is incredibly comforting when it comes to family matters, insisting that officers take care of matters at home, because the job will always be there.
Gavette recalls, "I've had sergeants who I would never approach with personal issues or to ask how to handle a call. I was afraid they would judge me a certain way. I want my guys being completely comfortable approaching me with their goals and their problems. I tell them that up front, to foster a sense of family."
A part time professor at Caplin University, Gavette teaches cybercrime and a bachelor capstone course in criminal justice. He uses the classes occasionally to invite officers in to speak with students about their experiences to get the officers comfortable with providing leadership themselves.
"There's an expression about leadership," said Imparato. "What is the difference between a supervisor and a leader? A supervisor says, Go!' A leader says 'Let's go!' He embodies what a leader should be."