Seattle PD looks to unarmed response for non-emergency 911 calls
Chief says officer shortage has police working overtime "just to handle the bare minimum"
---
By Anne Berleant
SEATTLE — City leaders in Seattle are discussing whether community service officers, crisis response experts and behavioral health providers could be dispatched to certain 911 calls instead of police. However, the process is still being figured out, according to K5 News.
Officer shortage is driving the discussion. Roughly 400 deployable officers have left the force since 2018. Meanwhile, the city council is talking about giving bonuses and paying moving expenses to recruit new officers.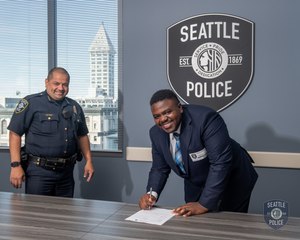 "Officers are having to work overtime just to handle the bare minimum," Police Chief Adrian Diaz said.
[RELATED: Officials: L.A. police-free response teams see early success]
A 911 response policy called the "Z Protocol" would address the police department's difficulty in circling back to non-emergency callers, according to K5 News. And Seattle is far from alone in turning to an alternative way to handle certain 911 calls.
In April 2021, Santa Fe, N.M. launched an Alternate Response Unit with a goal of alleviating the police and fire departments' workload and providing additional crisis support.
Andrew Lewis, vice chair of Seattle's Public Safety and Human Services Committee, said they repeatedly discuss response times for 911 but "crime, disorder, public health issues don't wait for us to finish our process."
NEXT: What does 'reimagining public safety' really mean in action?