The HUGE gap in officer career survival training
Where's the scenario-based training for the REAL stresses of the job?
---
I've spent over 35 years with law enforcement officers from recruits to veterans to retirees – as a state and federal prosecutor, an adjunct instructor at a DPS Academy, and a national trainer and writer. Most of us change with experience. Being a prosecutor changed me from the idealist who graduated from law school. I have watched officers change over their careers in policing.
Some experts on police cynicism say officers are changed by being disproportionately exposed to the worst in human behavior. They mean the criminals. In my experience, it wasn't the criminals that changed officers. They signed up to deal with bad guys and the forces of evil. It was the stuff they hadn't been prepared for.
It's not "the bad guys" that cause "burn out"
As a trainer, I've asked officers nationwide: What about the work depletes your spirit?
Not a single officer has ever said "criminals," "defendants," "suspects," or even "dirtbags." Instead, officers say:
A justice system that is based on technical rules, not justice.
Court decisions from legalistic intellectuals with no idea what their job is like.
Politicians bent on getting re-elected.
Failures in management. (This generates a whole separate list.)
A public that asks everything of them but doesn't want to pay for the qualifications or training needed to provide it, and has no idea what the job is really like.
Lack of resources.
Prosecutors who don't want to try cases.
If these are what officers say deplete their spirits, we need to ask if we're preparing them for the challenges.
Scenario-based training for the real job stressors
I was an adjunct instructor at the Alaska DPS Academy for over 25 years. I presented recruits with the following scenarios:
1. You used deadly force resulting in a serious injury. An investigation establishes you did everything perfectly – tactically and legally. The injured person sues you and your department. Your department decides to settle and pays the person more money than you will make in the next five years.
How will that make you feel?
Will that affect your future job performance?
2. You pour your heart into a serious crime investigation and make a great case. The prosecutor dumps it or deals it out for something minor, or the judge dismisses it on a technicality, or the prosecutor gets a conviction, and the judge gives the defendant a slap on the wrist.
How will that make you feel?
Will that affect how you handle your next difficult, serious case?
​​3. A citizen complains about seeing you on a personal errand while on duty. Your chief chews you out. You silently swallow the chewing out, knowing you have a dozen hours of overtime you haven't put in for. Your chief goes to a taxpayer-paid three-day conference and plays golf on two of the days.
How will that make you feel?
Will that affect your commitment to the department's mission?
I saw realization dawn on the recruits' faces.
Debriefing
The recruits and I debriefed the scenarios. I told them to expect these challenges and more like them. I advised that if they were counting on their department or the justice system to have their six, they would have their hearts ripped out and stomped flat. Their department is a bureaucracy. The justice system is a system. Bureaucracies and systems are bloodless mechanisms.
They had to find something else that would have their spiritual six, that would give meaning to the work regardless of their departments' or the system's responses. They needed to find it at the academy and hold fast to it throughout their career.
For some, it might be faith, for others family, for others, hobbies and interests beyond work, for still others a combination of these and more. For many cops I've met, it was creating meaning in the work where they could.
Decide your life's story
I would tell the recruits a story: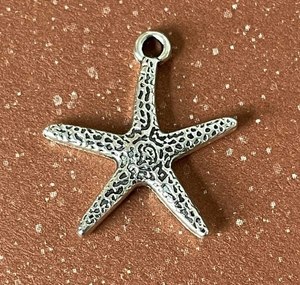 A man was walking along a deserted beach. In the distance he saw a young woman repeatedly bending down, picking something up, and throwing it into the sea. As the man approached, he saw the beach was littered with thousands of starfish, stranded by the outgoing tide. He asked the young woman what she was doing. She said she was throwing the starfish into the water, otherwise, they'd die before the tide returned and covered them up. The man replied, "But there are thousands on this beach, and this must be happening on countless beaches. There's only one of you. What difference can you possibly make?" The young women bent down and picked up another starfish. As she threw it back into the sea, she answered, "It makes a difference to this one."
Then I would give each recruit a metal starfish.
The man in the story sees only the obstacles – there are too many starfish, not enough resources, the problem can't be solved. The young girl instead focuses on the difference she can make.
I offered the recruits three questions they might use to guide them through every shift.
What can I do to make a difference?
What can I contribute?
What am I committed to regardless of success?
Then I would tell them, "Decide what kind of officer you're going to be, regardless of the circumstances. That's the story your life will tell."
Leadership
The profession needs to care about and prepare recruits and officers for real stressors and challenges and offer them strategies to meet them.
Thank you all, for making a difference in my life.
NEXT: A letter to the American public: No simple answers for police leaders tasked with training law enforcement