Veteran Miami cop named interim chief after Acevedo ousted
The new interim chief was one of several home-grown candidates
---
By Charles Rabin
Miami Herald
MIAMI — Miami's interim police chief spent the past three years in charge of the department's uniform division and crime prevention teams. He oversaw SWAT, Homeland Security and the bomb squad. He managed the department's response to the civil disturbances that broke out downtown after the death of George Floyd.
Manny Morales was also one of several home-grown candidates who made the final list when the city's lengthy search for a new chief was upended in March with the announcement of Art Acevedo's hiring. He was believed to be the favorite of some commissioners, who had reached a standoff over the hiring of a new chief with the mayor and city manager.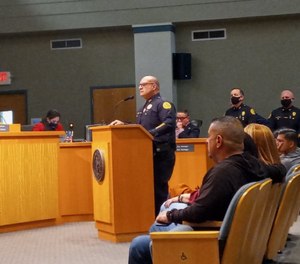 On Tuesday, the naming of Morales, 50, as the interim chief was welcomed by at least one commissioner.
"From the beginning, I thought Manny [would be a good chief]," said Miami Commissioner Alex Diaz de la Portilla. "With Manny I think we get a talented local police officer who gets us."
Morales couldn't be reached for comment.
Morales — who has been overseeing 850 patrol officers, or about two-thirds of the city's sworn cops — was chosen to steady the ship Monday night by City Manager Art Noriega. The appointment was mentioned in a brief statement by the manager when he announced the suspension of Acevedo with the intention of firing him, pending a hearing on the chief's future before Miami commissioners that is expected later this week.
In a brief statement, Noriega only said he'd chosen Morales in the interim as the city looks for a new chief.
Morales, who has been with Miami for three decades, maintained his senior staff post and responsibilities during Acevedo's brief six-month tenure.
He spent the first five years of his Miami policing career as a patrol officer, then graduated to detective work in violent crimes until 2001. He spent the next four years as a patrol sergeant and supervised the agency's Crisis Intervention Team. In 2007 he was promoted to lieutenant, and oversaw the gang unit and auto theft details.
From 2009 through 2016 he served as a Neighborhood Enhancement Team commander in Little Haiti, the Upper Eastside and Coconut Grove. From there he was promoted to a major in field operations and assistant chief.
©2021 Miami Herald. Visit miamiherald.com. Distributed by Tribune Content Agency, LLC.
McClatchy-Tribune News Service