NTOA 2016: Duty knife use and deployment for law enforcement
Almost every LEO carries a knife, but very few agencies have an edged weapons policy commensurate with those they have for firearms, impact weapons, chemical weapons, and conductive energy weapons
---
At the National Tactical Officers Association (NTOA) 2016 Tactical Conference, Jared Wihongi shared his expertise during the "Duty Knife Use and Deployment" seminar. Wihongi is an accomplished law enforcement trainer with experience in patrol and SWAT, who brought his extensive knowledge of edged weapons and unarmed fighting skills to the conference to help educate his fellow officers on this vital topic.
Almost every law enforcement officer in America carries a knife for utility or defensive purposes, but very few agencies have an edged weapons policy commensurate with those they have for firearms, impact weapons, chemical weapons, and conductive energy weapons. 
Fewer still offer any kind of training with these defensive tools.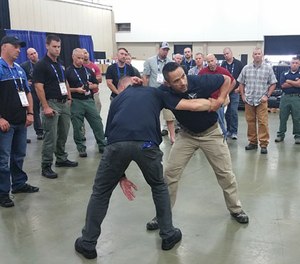 The fundamentals 
Recognizing this gap, Wihongi, at the invitation of NTOA, addressed the possible uses for a knife in law enforcement work, with a special emphasis on using them as a force option. During training, he made it clear that using an edged weapon constitutes lethal force, and should be treated as such under an agency's use of force guidelines. 
Wihongi discussed the strengths and weaknesses of various knife designs with the goal of helping officers to understand which features would best suit their operational needs. The benefits and limitations of various carry locations were explored as well, with an emphasis on efficient and quick deployment, particularly in those scenarios where an officer may already be in close contact with an aggressive suspect who could foul their access to the knife.
With the assistance of accomplished Filipino martial arts instructor Ernie Lake and British law enforcement trainer Geoff Perrin, the students were introduced to the fundamentals of using a knife to defend against all manner of close quarter attacks, including using the knife as a means of weapon retention against a lethal gun grab attempt. 
Working in two-man teams, the students spent two and a half hours on the floor, learning the basics of thrusts and slashes along three different lines of attack under the guidance of the three instructors. 
Training progressed to various methods used to trap and deflect the arm of an aggressor who is attacking along similar lines of attack, and obtain a position of advantage on the outside line of that aggressor. Further instruction helped students to understand some basic techniques that would allow an officer to defeat a gun grab, an obstructed draw, or a disarm attempt for an already drawn gun.
The two and a half hours of practical training passed much too quickly, and while it was only intended as an introduction to skills that would take more effort to consolidate, all the students in attendance left with a better understanding of the techniques necessary to deploy and use an edged weapon in self-defense. Other notable learning points from the training included:
1. A better understanding of the target areas appropriate for an edged weapon.
2. The necessity to consider where the edged weapon will be carried to enhance retention and prevent unauthorized access to the duty knife, while still allowing for weapon deployment under duress.
3. A practical appreciation for keeping edged weapon techniques simple, and grounded in the gross motor movements that withstand the effects of combat stress much better than complex, dexterity-intensive techniques.
4. An understanding of how the demonstrated fighting techniques are not weapon dependent, and how the general principles can be applied to empty hand, impact weapon or even firearm defenses.
Importantly, every officer present gained a greater appreciation for the significant danger imposed by a suspect who is armed with his own edged weapon. At a time when many law enforcement agencies are bowing to public pressure and changing their use of force policies to treat edged weapon attacks as if they are less dangerous than other forms of assault, it's important for officers to understand the deadly efficiency of an edged weapon in close quarters. Exposure to training such as this helps to reaffirm the significant threat that is posed by an aggressor armed with an edged weapon, and helps officers be better prepared to make appropriate deadly force decisions.
To learn more about training with Jared Wihongi, please visit www.jaredwihongi.com. To learn more about training with Ernie Lake, please visit www.fcskalikentucky.com. To learn more about training opportunities presented by the National Tactical Officers Association, please visit www.ntoa.org.