How to launch Coffee with a Cop (and why you should)
The event is an innovative, yet simple community relations program that police departments are adopting around the world
---
As part of National Community Policing Week, the U.S. Department of Justice COPS Office and the Hawthorne, California Police Department established National Coffee with a Cop Day. This police and community relations movement is about building trust, creating local partnerships and providing opportunities for positive officer-citizen engagements.    
The program was conceptualized by the Hawthorne PD in 2011 to improve police and community relations when tensions were high. Since its inception, this innovative, yet simple idea has been adopted by over 2,000 police departments throughout the United States and internationally. The program is an exemplary and modest approach to facilitate and encourage officer-citizen interactions that can be easily replicated in your area.
The Goodyear Police Department's program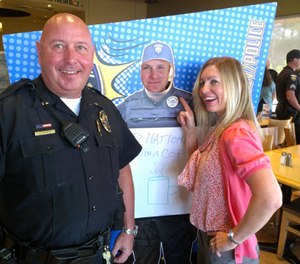 I was pleased to learn that my local agency, the Goodyear PD, had an established Coffee with a Cop program. When I reached out to Chief Jerry Geier to find out where they were hosting their event, the good chief responded with an extended welcome to attend.
When I arrived at the Wildflower Bread Company, where the department was holding the event, everyone was networking and the tone was light, warm-spirited and welcoming. There were several officers from department, including Chief Jerry Geier, Sergeant Alison Braughton with the Community Services Unit, Sergeant Seabright with the Specialized Patrol Division, PIO Lisa Kutis, and several others from patrol to SWAT. In addition to the strong police presence and participation in the event, there was also support from city officials, including PIO Amy Bolton and the city's Neighborhood Services Coordinator, Christine Plante.
The positive relationship observed today between the community, the police department and the city manager's office is a model example of a successful police-community relations program.
The diversity and participation in ranks is important for a Coffee with a Cop program to be successful. All officers, from patrol to SWAT to chief, need to experience positive community interactions in order to maintain a positive outlook during tumultuous times. The program is the perfect platform for facilitating and encouraging positive officer-citizen interactions.
The Goodyear PD launched their Coffee with a Cop program a few years ago and holds an event every quarter. In terms of advice to lend other agencies with a current program or those seeking to implement a new program, Chief Geier said, "It's important for us to make sure we're planning the events ahead of time and holding them in different geographic areas within the city limits to maximize our community connection."
Why PDs should start a Coffee with a Cop program
Policing to provide a safe community is a fundamental goal for all agencies. Establishing an unpretentious community relations program, like Coffee with a Cop, helps maintain trust, transparency and is an opportunity for positive encounters between officers and citizens. This program is designed for police to meet formally, yet informally, with citizens to listen to their concerns, discuss duties as a cop and develop and reaffirm the community's trust in law enforcement. The program is the perfect platform for facilitating and encouraging officer-citizen interactions. According to Sergeant Braughton, the costs are minimal. Often times the department is able to host the program at a local restaurant that offers complimentary coffee as a donation to the department. The community relations benefits to having the program far surpass the minimal costs of managing it. 
How to launch Coffee with a Cop in your community
To get started, visit the Coffee with a Cop police webpage, review the free resources, request training and watch the short training video. I also recommend contacting a police department that implemented this program. Ask the agency about what works well and how the program has evolved since its inception. You can reach out to Sergeant Braughton at abraughton@goodyearaz.gov and she will share her department's experiences with your agency.
As a coffee connoisseur and police supporter, it was great to support the Goodyear PD's National Coffee with a Cop Day event and their overall efforts for building positive police and community relations.