Do-it-yourself custom earpieces
---
In a previous column I extolled the virtues of custom earpieces for your radio. The advice still holds — I think custom earpieces are terrific. At the same time, I know that you might not have $125 or so in the budget to make this kind of purchase. Recently, I came across a new material that can be used to make your own custom earpiece for less than $15.
The material is called Sugru, a silicone compound supplied in foil packs of 5g each — about a wad of bubble gum. Once removed from the pack, it has the consistency of stiff modeling clay and is workable for about 30 minutes. It cures completely in 24 hours to a waterproof, temperature-stable (-60° C to 180°C or -76°F to 356°F) flexible state, kind of like hard rubber.
Because it's so easy to work with, hobbyists have been finding all sorts of applications for it, such as adding protective and slip-resistant covers for the ends of poles and wires, and repairing cables that are coming loose from electronic gadgets.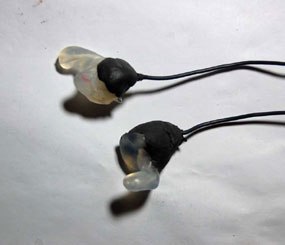 There is something of a sugru fan club on the Instructables website. Instructables is a collection of how-to-do or -make just about anything. One of the illustrated plans there shows how to make custom earpieces from sugru. In a nutshell, you form the contents of a pack of sugru around the earphone, keeping the sound channel clear, then cram the excess into your ear to make a custom mold. I highly recommend that you read the entire instruction set before you begin, as it points out the value and necessity of first coating your ear canal with Vaseline or a water-based lubricant like KY Jelly (no jokes, please) to get a better mold and ease extraction when it's set.
A couple of caveats on this process: one, it's generally not a good idea to stick things into your ears, so proceed at your own risk. Two, sugru irritates some folks' skin, and probably won't find it very comfortable having a piece of it stuffed in their ear all day. A possible remedy for the latter problem is to coat the finished ear mold with a thin layer of non-sugru silicone adhesive. That will give the earpiece a different texture, slightly more "tack," and possibly make for a protective barrier between your skin and the sugru.
Sugru is durable stuff, but it will peel off of the earphone if this doesn't work out. If you have only one radio earphone to work with, it might be best to take a trial run with a cheap set of consumer-grade earbuds, just to get the process down.
Sugru ships from the UK, so shipping costs are significant as compared to the price of the material itself. For this reason, I recommend you buy the larger "Super Hacks Super Pack" for about US$17.90 delivered. This gets you twelve 5g packs of Sugru in four different colors (if you make an earpiece for each ear, make them in different colors so you can easily tell them apart). You won't need anything close to twelve packs to try this project, but I can just about guarantee you'll either find another use for it around the house or see another sugru project on Instructables or the sugru site that you want to try.
I improved on the custom earpieces I had made for my Shure headset by using a bit of Sugru to hold the earbuds inside the silicone earpieces. The Sugru adheres nicely to the silicone of the earpieces, and serves as an excellent strain relief for the cord.