Building community bridges one act of kindness at a time
The BlueBridge Alliance Program puts prepaid debit cards directly in the hands of officers to help people they encounter who are struggling
---
By Chief Rick Johnson
As a police officer, it can be heartbreaking when we encounter someone who needs a little help with something, but there are only so many resources available.
For example, if a person needs a meal, a pair of gloves, groceries, or even a motel room, officers often use the money out of their own pockets with no reimbursement, which they gladly do. Police departments are not a 501(c)(3) and can't accept direct donations from charitable citizens. Officers can't be reimbursed by the police department if they opt to pay out of their personal wallet in immediate emergency situations, which as mentioned, many do, because the police departments are tax-funded.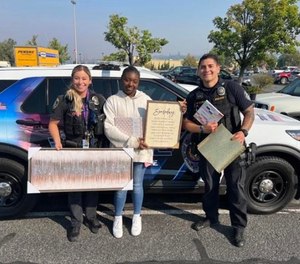 It doesn't have to be that way. We recently implemented a community program through BlueBridge Alliance as part of a Washington State pilot program to help in those situations. This is a program specifically to help with law enforcement and community outreach/goodwill. It puts prepaid debit cards directly in the hands of police officers to help people they encounter who are struggling or in a difficult situation, without the worry and red tape.
The program is a humanitarian effort that provides the infrastructure to enable officers to use local community-supported resources with minimal administrative impediments. Officers can use the funds at their discretion for community outreach to make a positive impact. The assistance officers can provide could come in many forms such as food, shelter, clothing, fuel, auto repairs, transportation, or any other means of support that would help relieve the immediate crisis or just to make a community connection.
Through BlueBridge's pilot program currently underway, each participating law enforcement agency received seed money in the way of a grant, to distribute at the grassroots community officer level, when he/she is in the field over a three-month period. The goal is to have each agency establish an ongoing program within their community and become self-sufficient via local and community donations. The BlueBridge platform makes it turn-key. They also serve as a clearinghouse for national and state funding, as well as for grants from private endowments.
The initial concept started out in Kennewick, Washington by Police Chief Ken Hohenberg (ret.) and inspired the creation of BlueBridge Alliance. Co-Founded by Brian Spracklen, a former tech executive, Chief Hohenberg, and other well-known law enforcement leaders, with the support of community and business leaders, this new innovative program has offered interim relief to over 600 individuals and families.
The catalyst for this program came from a police incident in 2011. A respected San Diego Police Officer patrolling an underserved community was recorded by surveillance video at a fast-food restaurant buying food for a young neighborhood boy he had never before met. Minutes later, the officer was mortally wounded in an unprovoked attack by an armed individual with no other motive than to kill a police officer. It got Spracklen to ask the question "What if all officers had the resources to perform random acts of kindness for people at moments when they are most vulnerable?"
Sgt. K. Garcia details a great recent example of the type of assistance law enforcement has provided using this program: "A part of my routine patrol is to interact with kids and staff at one of the local elementary schools. One of the teachers informed me of a family with a fifth grader who was large for his age. The family was struggling as the mom just had a baby and the dad was trying to get his CDL for full-time employment. I had the teacher communicate with the mother about sizes and I was able to get the child some snow boots, snow pants and undergarments. I met with the student at the school and  [presented] him with some things for winter. He was very appreciative and gladly accepted the items. It was a great interaction that made me feel proud to be in a position to help out this family."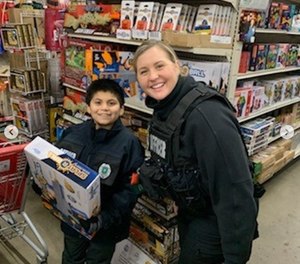 East Wenatchee Officer Ivy Jacobsen reports: "It's great because when we recognize someone in need, we're able to pull out this debit card. The program helps form an emotional connection. It's a very transparent, humanized way for officers to show empathy and empower them to help others in need at the direct point of contact."
In the relatively short period we have rolled out this program, we have seen this type of goodwill time and time again. Officers find satisfaction in helping someone in a way previously not available to them. I believe if more police agencies implement this program, it would go a long way toward enhancing community trust and the way people perceive law enforcement officers. We've also seen an amazing outpouring of support from the community in the form of donations to our program, which helps truly make it about our own community. Pilot agencies are finding their communities are excited to raise funds for BlueBridge.
To learn more about this BlueBridge Alliance, visit https://www.bluebridgealliance.org/.
---
About the author
Chief Rick Johnson began his law enforcement career with the Toppenish Police Department in Yakima County in 2001 and joined Wenatchee Police in 2003 and was promoted to sergeant in 2013, serving most of his time with the department's unit specializing in gang activity and as a member and leader of the regional SWAT team. He was named chief of patrol for the sheriff's office in 2016 and became Wenatchee Police Chief in 2020. He holds a bachelor's in biology from Central Washington University and graduated from the FBI National Academy.