Calif. PD using civilian outreach specialists to engage with homeless people
While they work closely with police and respond to nonviolent calls, the specialists free up officers' time, police said
---
By Kevin Valine
The Modesto Bee
MODESTO, Calif. — The Modesto police have started a new team to engage with the homeless people who commit quality-of-life offenses — including drinking in public and camping in parks — that often frustrate residents.
The team consists of civilian outreach specialists. While they work closely with the police and respond to nonviolent calls, the specialists free up officers' time, allowing officers to focus more on higher-priority calls.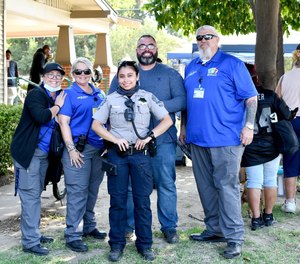 Police Chief Brandon Gillespie said in a blog post he plans to expand the outreach specialists' duties to include more than calls involving homelessness. He wants them to respond to other nonviolent 911 calls in which someone is in a crisis but does not need the help of a police officer. The Police Department also plans to hire more specialists.
The Community Health and Assistance Team, or CHAT, consists of four outreach specialists and complements the Police Department's Homeless Engagement and Response Team (HEART), which consists of two police officers assigned to downtown and a third officer who focuses on illegal camping throughout the city.
Sgt. Mike Hammond oversees the two teams and said residents should not expect fast results from the department's newest effort, but it's an approach that can lead to lasting results.
[RELATED: The top 10 reasons to start a police homeless outreach team (and how)]
This is also one of several initiatives the Police Department is working on to respond differently to some of Modesto's challenges, including using rangers in problem parks and having mental health clinicians respond with officers to calls involving people undergoing mental health crises.
Modesto is using money from federal pandemic relief to pay for these initiatives.
Hammond said the police cannot force homeless people to accept services, and they have the same rights as anyone else to be in parks and other public spaces as long as they follow the rules.
He said many homeless people are damaged and broken and it can take many contacts with them, sometimes spanning years, before they have the trust and willingness to go to a shelter, enter rehab or accept other help.
"We are going to do whatever its takes," Hammond said. "If they fall down seven times, we'll be there to pick them up (each time). You really have to have a servant's heart. ... Most working adults like to check a box and move on. That does not work with the homeless."
[RELATED: Outcomes improve when law enforcement and mental health services combine forces]
But he said that does not mean condoning wrongdoing.
He said while HEART and CHAT work to gain voluntary compliance, educate homeless people about the rules, and try to connect them with services, there are consequences for people who do not comply. That can include officers issuing citations or booking someone at the jail.
The balance between outreach and enforcement took place Wednesday morning at the King-Kennedy Memorial Center in west Modesto.
Given no trespassing notice
The outreach specialists responded to their first call of the day there, a report of someone camping near the center's entrance.
Outreach specialist Randy Limburg was patient, kind and firm as he listened to Perman Mauldin, 57, explain why he had set up his camp the night before outside the center. Limburg explained to Mauldin why he could not do that and had to leave. He also told Mauldin about the services available to him, including going to a shelter, and encouraged him to use them. Mauldin declined.
Officer Todd Musto from the HEART team arrived later in the call to issue a no trespassing notice to Mauldin on behalf of the West Modesto Community Collaborative, which runs the center.
The notice allows officers to ask Mauldin to leave the center and its grounds or face being cited without having to speak with the collaborative. Executive Director Perfecto Munoz said Mauldin has been a nuisance at the center for a while, including urinating in public and bothering people, and has declined the collaborative's effort to help him.
Hammond said Mauldin has been a regular at Martin Luther King Jr. Park, which is next to the center, for at least 15 years. "It's the same scenario," Hammond said. "Not much has changed. (The park) is his comfort zone. His situation doesn't change much, and it's mostly because he doesn't want it to change."
But Hammond said working with homeless people is not as bleak as it may appear. He said the key is consistent outreach and enforcement.
'One day, it might click'
"One day, it might click," Hammond said. "He might get tired of getting cited ... and say, 'I'll take the help you are offering me.' You never know when someone is going to be ready. You can't predict when someone is going to be ready because we are not here with them all the time.
"We don't know if they just got beat up or their folks just died or their kid just died or some (other) traumatic thing happened in their lives, and they say, 'OK, I'm ready today.' "
[RELATED: Putting a face on the homeless]
Limburg said he and the other outreach specialists provide the consistency and frequent engagement that police officers often can't because of the need to respond to higher-priority calls. Limburg and outreach specialists Christina Kenney and Veda Malone have more than 30 years combined experience working with homeless people.
(CHAT is configured now to have four outreach specialists, who work in pairs, but the fourth specialist is no longer with the team. Hammond said the city working on filling that position.)
Kenney said she and her co-workers already know many of the homeless people and have credibility with them. They also have the temperament for this work.
The team's next call Wednesday was at Davis Community Park regarding a couple who had spent the night in the women's bathroom. Kenney and Malone coaxed the couple out of the bathroom, and the couple gathered up their belongings. They had spent the night there to stay dry.
Lined up a job as waitress
Kenney was patient and empathetic as she spoke with and listened to the woman, 43-year-old Christy Compton. Compton was frustrated about not being able to find housing despite working with service providers. But she said she was grateful for the help she had received in obtaining food stamps and health insurance.
Compton said she had a job lined up as a waitress at the Olive Garden and planned to go to orientation Thursday even though her orientation was not scheduled for three more weeks. Compton was hopeful that if someone did not show up Thursday she could take their spot.
Malone also was patient as she spoke with 35-year-old Jarrod Switzer.
Limburg — who once was homeless — was shocked when he saw Switzer come out of the bathroom. Limburg said Switzer helped him get through rehab when the two were in it more than a dozen years ago.
Limburg was enthusiastic as he talked about Switzer's abilities, though Switzer said he was not yet ready to try to put down his addiction.
Later when Switzer showed the intricate, delicate roses he painstakingly fashioned from the scrap metal he found and the scissors and pliers he carries among his belongings, Limburg's voice broke. "I'll go the extra mile for you," he said. "I love you. You could do something with this. You could teach kids to do this."
Mental health clinicians
Modesto is using $800,000 in federal pandemic funding for CHAT. That includes the cost of four vehicles, equipment, supplies as well as other expenses. The funding will keep the program running for 18 months, and officials are looking at how to fund the program behind that.
The city hired the outreach specialists in the spring.
The Police Department expects to soon bring a proposal to the City Council regarding having two mental health clinicians respond with officers to calls involving people undergoing mental health crises, according to department spokeswoman Sharon Bear. The department is working with Stanislaus County Behavioral Health and Recovery Services on this effort.
Bear said there is not yet a date to bring forward the proposal to have four park rangers assigned to city parks that generate lots of quality-of-life complaints. The rangers would not have firearms but would have pepper spray and handcuffs and could write citations.
(c)2021 The Modesto Bee (Modesto, Calif.)
McClatchy-Tribune News Service