Coach Dawn Staley and Sheriff Leon Lott: Two unlikely, but very good friends
The friendship is opening up lines of communication with teenagers, young adults and the broader community
---
Dawn Staley, the head coach of the No. 1 ranked University of South Carolina women's basketball team, and Richland County Sheriff Leon Lott, share a mutual belief that young people have changed in terms of how they were led in 2002 and how they may be led in 2022. But both leaders say that may actually be a good thing.
"As a coach, I can't coach the way I coached 20 years ago: I wouldn't have a job," said Staley during a December 2021 webinar, Consent Decrees and Constitutional Policing, sponsored by the U.S. Department of Justice. "I really would not have a job, because I was no-nonsense. They [the younger players on her top-ranked teams] can't handle that anymore. My principles haven't changed though. The core values of who I am as a coach, as a leader: They haven't changed. What's changed is the way I communicate with them and the way I want them to communicate with me: Keeping those lines of communication open so that I don't have to assume. They don't have to assume."
Staley, a four-time Olympic gold medalist (one of which she earned as head coach of TEAM USA), was a standout basketball player in the Women's NBA. As head coach of USC's women's basketball program since 2008, Staley has led the Gamecocks to five regular-season SEC championships, six conference tournament championships, seven Sweet Sixteen appearances, three Final Fours, and an NCAA national title in 2017.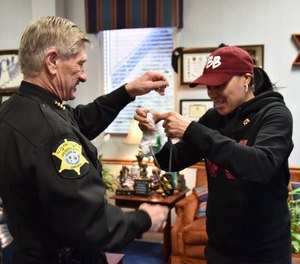 Lott, who last year was named National Sheriff of the Year by the National Sheriffs' Association and South Carolina Sheriff of the Year by the South Carolina Sheriffs' Association agrees with Staley. "It's like she says, you can't talk to young people like you did 20 years ago," said Lott during the seminar, later adding, "That's not necessarily a bad thing: It's simply a new dynamic requiring a different approach."
Lott contends the communication dynamic is the same in terms of his command of some 800 sworn deputies and a total of well-over 900 employees to include those deputies, as well as those living and working within the communities served by Lott's Richland County Sheriff's Department (RCSD).
Both Staley and Lott agree that young people today are more politically astute. "They have more questions," said Lott. "They are more willing to question that which they don't understand. And they are more involved in the lives of their communities and others, and they want to be now more than ever before."
As part of that community involvement, Lott and Staley formed a unique partnership of mutual understanding and interaction wherein Lott regularly speaks to Staley's basketball teams and regularly attends games. Staley – when she's not busy coaching or on the recruiting trail – participates in various RSCD functions to include ride-alongs with patrol deputies, sometimes with Lott himself. Staley was made an RCSD special deputy in 2015.
Asked if partnerships like the one developed between herself and the sheriff should be embraced by all college coaches in cities across the U.S., Staley was emphatic: "I think it should be mandatory that coaches do this!" she said. "Once you have a better understanding of both sides, you can be a better leader in teaching them."
The partnership has blossomed into a special friendship.
"She knows my kids and my family," says Lott. "I know her players. She and I talk all the time. Even during the busyness of the basketball season, we are texting one another and always staying in touch."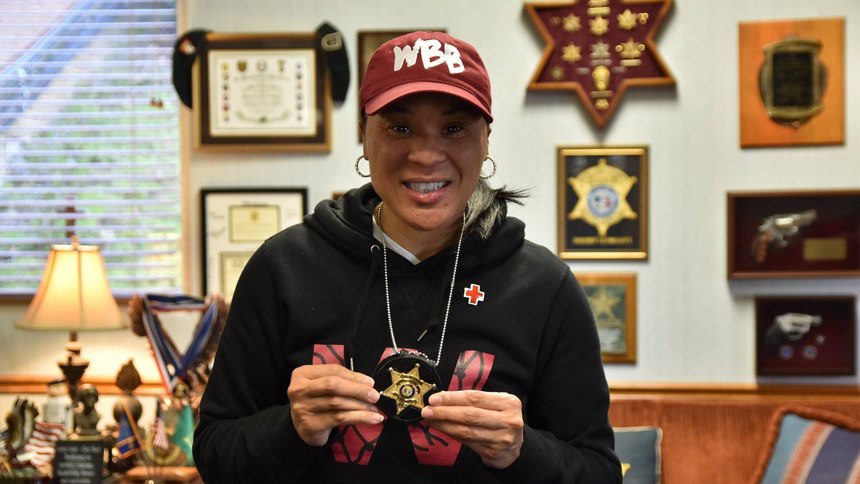 Beyond the personal friendship, both Staley and Lott constantly seek new ways to keep lines of communication open with young people, ballplayers, fans, friends and non-fans alike.
"Like Coach Staley says, we need to listen, and I listen a lot," said Lott during the interview. "Some of the questions they [young people, specifically Staley's players] ask are questions that we take for granted like, 'Why did you shoot that person just because they had a knife?'"
That's a great question as are all of them, said Lott, adding: "They don't understand the dynamics of our job, so they ask these questions and I'm able to answer them and put things in a different perspective for them. This [creates] a better understanding of what they're feeling, what they see, and what they hear versus what we see and what we do in our job every single day."
What are the recognizably tangible benefits? "Many," said Lott during a conversation in late January 2022. Referring back to the December 2021 interview, he shared the story of a basketball player, who perhaps might have previously avoided him, approaching him, shaking his hand and warmly greeting him.
"They see me not just with a uniform on," said Lott. "They see me as a supporter of them. They also see the deputies. As Coach Staley said, they see our female deputies. They see athletes that we have here at the Sheriff's Department who played basketball at USC, and so they say, 'Ok, they look like me. They were like me at one time, so they must not be all bad.'"
Lott says if something happens involving deputies or police officers that might be "somewhat controversial," Staley will reach out to him with questions for and from her student-athletes about what happened and why. "There is an open dialog that we have developed over the years that is beneficial to all," Lott added.
Lott's friendship with Staley is not his only partnering relationship with USC stretching back decades. For years, he has lectured and taught classes at the USC School of Law and USC's Department of Criminology and Criminal Justice. He regularly speaks to USC's athletic teams about safety, social issues, and team-and-community leadership; and his longstanding relationships with USC's major sports head coaches and athletics directors have existed since he was first elected sheriff in 1996.
"For a law enforcement leader to develop relationships with a college's or a university's athletics programs goes a long way toward enhancing relations in the broader community," said Lott, himself a lifelong athlete and a starting pitcher on the USC-Aiken Baseball Team in the early to mid-1970s.
The December 2021 webinar interviews were conducted by Arif Alikhan, former deputy mayor of public safety for the City of Los Angeles; and Professor Geoffrey Alpert, USC's Dept. of Criminology and Criminal Justice.
On December 13, 2021, Lott was presented the honorary degree, Doctor of Public Service, during commencement ceremonies at USC.
As of this writing, Staley's 21-1 Gamecocks remain No. 1 in all NCAA rankings.