'Every day we get a new kid': Fla. PD builds bridges to community through soccer
"We have to make an impact and show them we're not the bad guys," Sgt. Danny Pacheco said
---
By Chris Perkins
South Florida Sun-Sentinel
        
DELRAY BEACH, Fla. — Listen closely and you'll hear Creole, Spanish and English spoken by about two dozen boys, ages 7 to 15, at Merritt Park. It's what happens at a typical Delray Kicks soccer practice.
The coach, Sgt. Danny Pacheco of the Delray Beach Police Department, frequently must explain basics such as a throw-in or a corner kick. About 80% of the kids, who all live in Delray Beach, had never played soccer.
That's one reason they lost their season opener, 8-0. But that's OK.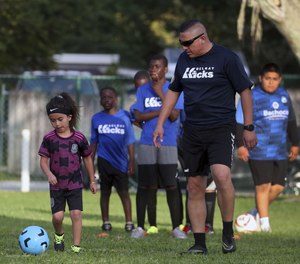 Soccer, in this instance, intends to secure larger-scale victories.
"There was no communication between the police and Latino and Haitian communities because of the language barrier," Pacheco said.
Pacheco, who speaks English and Spanish and knows some French, which helps with Creole, started the Delray Kicks seven months ago, hoping it would improve relations with the Hispanic and Haitian communities.
The early returns say the mission is being accomplished.
"We're like family," said Moses Lexidort, a 13-year-old Delray Kicks player who also plays basketball, baseball, and lacrosse.
About a dozen parents, the regulars, are watching practice on this cool Tuesday evening. Claudia Galvan — Miss Claudia to the kids — looks out to the practice field and nods toward Pacheco.
"That man is amazing to me," she said.
Pacheco, who played soccer growing up in Peru and still plays in an adult league, is assisted by officers Mark Lucas, Tanisha Johnson and Kal Alami. They coach soccer in their spare time, often after working a 12-hour shift.
It's a labor of love borne out of necessity.
"We thought it was a good idea," said Juliet Rivera, whose 11-year-old son Aiden is on the team, "and it was something good the police department did for the city."
Galvan and Pacheco said many Hispanics and Haitians in Delray Beach are afraid to tell police they've been crime victims because they fear immigration blowback.
The Delray Kicks, named by the players, are helping alleviate a bit of that fear of police. Soccer, the only sport where the police sponsor and coach a team, allows them to see the officers out of uniform, as regular people, which starts a ripple effect in the community.
"We have to make an impact and show them we're not the bad guys," Pacheco said.
They make impacts in many ways, which is often a challenge for a team whose numbers can swell as high as 40. Many players are low income, and some arrive at practice without socks or shoes. The team, with support from Delray Beach Police Chief Javaro Sims and the police department, provides socks, shoes, shin guards, whatever they need.
Parents say their kids now look forward to Tuesdays because it's their practice day. When police are patrolling the community, they see players proudly wearing their Delray Kicks shirts.
At Thanksgiving, each player received a $25 gift card. For Christmas, parents and coaches hosted a turkey dinner for players and their families on the field at Merritt Park. Coaches helped one player find housing after his family was evicted. Pacheco said a few kids walk almost 3 miles to attend practice. In such instances the coaches and parents form carpools to ensure the children don't walk home in the dark.
Word of such favors is spreading.
"Every day we get a new kid," Pacheco said.
Moses Lexidort was the new kid not long ago. He joined the team after officer Lucas was called for an off-campus fight near his school. They talked. Lexidort asked his parents if he could play soccer, they approved, and now he's on the team. That's how it works.
Honan Velasquez, a 15-year-old, is now the new kid. He recently joined his 10-year-old brother Geo on the team.
"I just heard they had some trouble last game," Honan said about the 8-0 loss.
He likes his new team. "It looks like they're having fun, and that's all that matters," he said.
It's fun, and it's real. Pacheco said the kids know they must maintain good grades to stay on the team. At times, parents or coaches will take food to the kids' house if they hear of family difficulties.
"You build a different bond, you build a family" said Jaqueline Rivera, whose 7-year-old son Julian is on the team. "That's something they'll always cherish; the police did something for them."
And officers will help the kids if they're having issues at school or at home.
"Sometimes I'm the father they haven't seen in seven years," Lucas said.
After the season-opening game, Galvan, who has two nephews on the team, took six kids to a restaurant. Then she felt bad for the others. So she and her husband are buying 10 pizzas and hosting a pizza party for the team.
Acts such as that create good vibes.
"I'm happy they opened this league, because my son is busy mentally and physically, and he's not focused on the computer or phone," said Nancy Ramirez, whose 9-year-old son Mao, is on the team.
Juan Rodriguez and Constantina Hernandez, whose 13-year-old son Manuel Hernandez, is on the team, also see the big picture.
"This is a nice opportunity for the children because they're not in the streets," Rodriguez said.
And that 8-0 loss? Pacheco isn't worried. After the game he gathered the team in the parking lot at Delray Beach's Seacrest Soccer complex and told the kids he was proud of them.
"The kids gave it 100%," he said.
The Delray Kicks are playing in a U16 league, which means most of the opposing teams are composed of 15- and 16-year-olds. The Kicks have lots of 10- and 11-year-olds and a decent number of 13-, 14-, and 15-year-olds. If they play in a U12 league, no one older than 12 can play, and that eliminates some team members. The same is true for a U14 league. So, they play in a higher age bracket so everyone can play.
Pacheco's dream is taking the Delray Kicks to a tournament next March at the Disney Sports Complex in Orlando. It could cost as much as $450 per player, but they'd get to play soccer and enjoy Disney World. Only two players have been to Disney World.
"I hope I can give these kids a chance to experience that," Pacheco said.

©2022 South Florida Sun-Sentinel.
McClatchy-Tribune News Service