Fremont Police Chief Sean Washington on how a Youth Advisory Board builds trust through transparent communication
"It helps me predict some of the concerns within our community if we hear the perspectives from our young people."
---
Download this week's episode on Apple Podcasts, Amazon Music, Stitcher, Spotify or via RSS feed, and watch the video version on Police1's YouTube channel.
The death of George Floyd in 2020 from the unlawful actions of a Minneapolis police officer sparked the largest protests in U.S. history – resulting in the erosion of community trust in law enforcement, particularly for youth.
After connecting with distraught students who expressed confusion and fear at several organized protests in the summer of 2020, then Fremont Police Captain Sean Washington recognized that the youths' voices needed to be heard. 
When he later became police chief in Fall of 2021, one of his priorities was to listen, resulting in the establishment of the Chief's Youth Advisory Board, enabling a direct line of transparent communication between Fremont youth and the Fremont Police Department (FPD).  
In this episode of the Policing Matters podcast, sponsored by Lexipol, host Jim Dudley speaks with Chief Sean Washington about the work of the Chief's Youth Advisory Board.
ABOUT OUR SPONSOR
This episode of the Policing Matters Podcast is brought to you by Lexipol, the experts in policy, training, wellness support and grants assistance for first responders and government leaders. To learn more, visit lexipol.com.
Top quotes from this episode
It helps me predict some of the concerns within our community if we hear the perspectives from our young people who may not agree with some of the policies or actions of the police department. And we use it as an opportunity to get educated both ways." 
We use all social media platforms to communicate, not just with our community but our young people as well."
It is a way for us to get to our young people early and keep them interested in the profession and let them know that even though they may go off to college, when they come back, they have a home."  
About our guest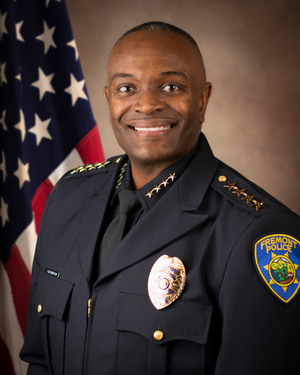 Police Chief Sean Washington joined the Fremont (California) Police Department in 1997 and worked several assignments gaining experience as a detective, field training officer, SWAT team member, arrest control instructor, driving instructor, and member of the School Resource Officer unit. Chief Washington was promoted to the rank of sergeant in 2007, lieutenant in 2011, and captain in 2015 as commander of the Special Operations Division. He was appointed police chief on October 1, 2021.
As police chief, he is responsible for all aspects of the Fremont Police Department, including emergency services provided 24 hours a day, 7 days a week. The Fremont Police Department has 319.5 full-time employees of which 199 are sworn positions. The Department is a full-service law enforcement agency and also provides some services by contract to other agencies.
Chief Washington remains actively involved in Special Olympics Northern California and other community-based events, such as hosting Shop With a Cop and mentoring local children. Previously, he also led one of the nation's first Electric Patrol Vehicle Pilot Programs in 2019 when the Fremont Police Department deployed its first fully electric-powered vehicle, a Tesla Model S 85, as part of its patrol fleet.
Chief Washington earned a Bachelor's degree (Criminal Justice) from California State University, Hayward in 1997 and a Master's degree (Administration of Justice) from San Jose State University in 2007. In 2015, Chief Washington graduated from the Police Officer Standards and Training (P.O.S.T.) Command College, Class #57.
Connect with the Fremont Police Department & Chief Sean Washington
RATE AND REVIEW THE POLICING MATTERS PODCAST