'Gentle giant': N.H. police horse dies after 17 years of service
"He was a big horse with a big heart," said Officer Kelly McKenney, a mounted patrol unit member
---
By Paul Feely
The New Hampshire Union Leader, Manchester
MANCHESTER, N.H. — Valor, a retired 17-year veteran of the Manchester Police Department's mounted patrol unit, died Monday, officials said. He was 19.
Known as the "gentle giant" of the mounted patrol unit, Valor — a Percheron who stood 6 feet, 3 inches at the shoulder and weighed 2,000 pounds — was retired in August of 2020.
"He was a big horse with a big heart," said Off. Kelly McKenney, a mounted patrol unit member.
He was recently diagnosed with Lymphoma, Manchester police said in a statement, and the "hard decision was made to put him down" Monday.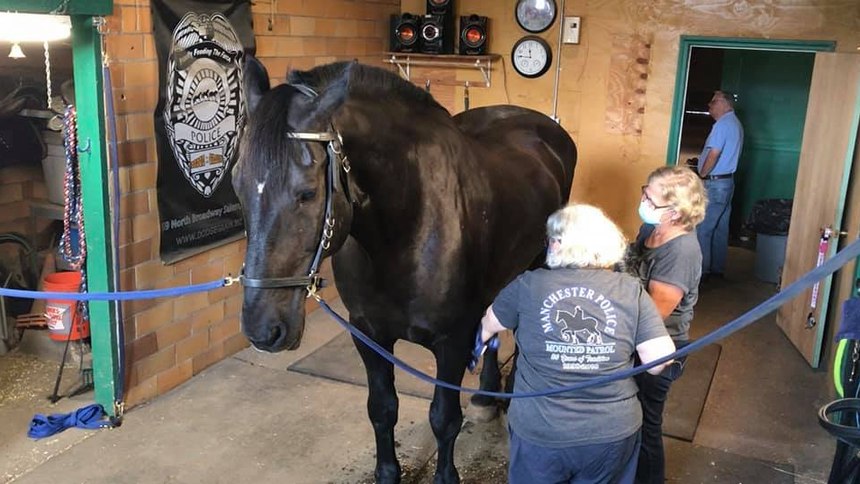 "Valor was a valued member of the Manchester Police Department for 17 years," said Manchester Police Chief Allen Aldenberg. "He brought much happiness to the community over the years and for that we are grateful for his service."
"His presence brought joy to anyone he came in contact with," said Off. McKenney. "I remember when we were at cops and kids and he would sneeze on the children — I know he did it on purpose — He loved the reactions he got from the kids.
[RELATED: Riding tall in the saddle while wearing a badge]
Valor's antics continued at the barn when accepting treats from the volunteers, McKenney said.
"He would take their entire hand into his mouth so he didn't miss a crumb."
Aldenberg thanked the Friends of the Manchester Mounted Patrol for their "endless dedication and volunteerism" to the mounted unit.
Valor was purchased in December 2004, helped by a donation from Merchants Automotive Group. The mounted unit began in 1999 through a federal grant to enhance the department's community policing initiative. Department officials reviewed the success of similar units in other communities and decided to start their own.
But budget cuts in 2004 almost forced the unit to disband. With permission to seek sponsors and donations, officers have raised enough money for the unit to continue to operate.
The horses are housed in a barn at the former Youth Detention Center in the city's North End.
The horses and the officers are used in places that police cruisers and foot patrols cannot go, as well as for routine patrols and other police duties.
[RELATED: Why agencies should keep mounted, bike and foot patrols]
Although people often see the horses at parades, at schools and at events where the officers demonstrate the animals' skills, the officers are expected to do everything an officer in a police cruiser would do — though they will not leave the horses, except in emergencies.
Valor often struck awe in anyone that met him, due to his immense size. He was used on patrol and connected with the community through events such as Cops & Kids, parades, nursing homes, county fairs and corporate functions.
Valor was a partner to retired officers Kevin Kincaid, Scott Tardiff, Mark Lachance, Todd Boucher, Fred Gillis and Paul Rondeau. More recently he served as partner of Officers Andrew Choi and Steven Duquette.
In October 2017 Valor suffered a corneal rupture and underwent surgery to remove his right eye. A fundraising effort to cover his medical costs raised thousands of dollars.
Even with the loss of an eye, Valor continued to work, even traveling to Washington, D.C., to take part in police week before retiring in 2020.
When Valor retired he went to a home where he had "his own little girl to love him and dote on him," McKenney said. The family cared for him after he was diagnosed with Lymphoma.
"His adoptive family gave a valiant effort to keep Valor happy and pain-free," said McKenney. I cannot imagine what they spent in vet bills."
When Valor was put down, he was "surrounded by the people closest to him."
"It was a peaceful end to an amazing soul," said McKenney.
Manchester Mayor Joyce Craig said Valor served the Manchester police department with distinction for over 17 years.
"He was a gentle giant, and I always loved seeing him out at events or walking downtown," said Craig. "He will truly be missed."
[NEXT: Video: NYPD horses break free from handlers, trot through Brooklyn]
(c)2021 The New Hampshire Union Leader (Manchester, N.H.)
McClatchy-Tribune News Service