Police chief: Detroit food truck owner who refuses to serve LEOs has been 'hostile' in past
"On this street corner, I encounter all types and the only type that's ever purposely intimidated me is [the police]," the owner wrote online
---
By Police1 Staff 

DETROIT — Detroit Police Chief James Craig said that a food truck owner who refuses to serve law enforcement has been "hostile" to officers in the past, according to The Detroit News. 

Rocky Coronado's decision not to serve police sparked national response after she initially posted about it online on Friday. 
"On this street corner I encounter all types and the only type that has ever purposely intimidated me is [the Detroit Police Department]," she wrote on Facebook. "The majority of my neighbors, customers and myself do not feel safe around law enforcement agents. I have asked friends from the National Lawyers Guild and I am well within my rights to refuse service to law enforcement agents." 
After claiming to have been harassed online following her first post, Coronado made a follow-up post on Sunday to further explain her decision.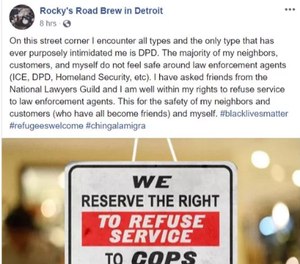 "Yesterday, two people came by in an unmarked, black suburban with tinted windows both with bulletproof vests and badges," Coronado wrote. "I do not serve law enforcement (ICE, Homeland Security, DPD, etc) so I told [them] I was closed to not make a tense situation more so. They then circled back around with a lady (still with bulletproof vest and badge) getting out of her vehicle asking why I didn't serve them. 
"Not feeling confrontational, I meekly told her that I don't serve law enforcement. She told me she was [with] the humane society and that we probably have the same political ideas. That's when I was ready to rectify the situation but she quickly became belligerent. She took her phone out and started taking pictures. ... The customers already at the truck were harassed by her and photographed despite NOT having their consent. 
"THATS WHEN I REFUSED HER SERVICE and asked her to leave," the post concluded. 
Chief Craig told the Detroit News Coronado has been difficult for officers to deal with in the past. 
"Generally speaking, we have good relations in that neighborhood, but my officers tell me whenever they've been in that area investigating criminal matters, she's been uncooperative and rude," he said. "She has clearly shown disdain for police; the million-dollar question is: Why?" 
Chief Craig told the Detroit News despite Coronado's aversion to law enforcement, officers would certainly still assist her if she ever needed it. 
"I don't agree with what she's putting on Facebook, but if she ever needs help we'll give her the same service we'd give anyone else," he said.