Law enforcement groups banned from marching in NYC Pride Parade until 2025
Organizers also want to cut the number of cops assigned to protect the annual event, which attracts 2 million people
---
In this article, Police1 columnist Janay Gasparini, Ph.D., shares why banning the NYPD at NYC Pride is unsafe and unprogressive.
By Elizabeth Keogh
New York Daily News
NEW YORK — Next year's Pride parade promises to have all the colors of the rainbow — except NYPD blue.
Organizers of the annual march want to bar a group of gay police officers from participating to "create safer spaces" for marchers, NYC Pride officials said Saturday.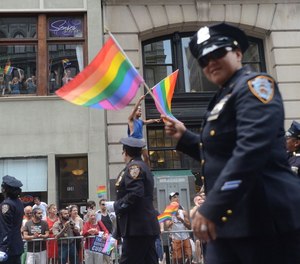 The group also wants to drastically cut the number of cops assigned to protect the massive annual event, which draws an average of 2 million marchers and spectators to the city each year.
"The NYPD is not required to lead first response and security at NYC Pride events," the group said in a statement. "All aspects of first response and security that can be reallocated to trained private security, community leaders, and volunteers will be reviewed."
Cops will "provide first response and security only will absolutely necessary," organizers said.
But the NYPD won't be missing out on the fun and will be there, despite NYC Pride's decision, department officials said.
The group's plans come a day after the Gay Officers Action League — which represents officers from the NYPD and other law enforcement organizations — announced that they were no longer welcome at the parade. NYC Pride was expected to announce the Gay Officers Action League's exclusion from the parade early next week.
NYC Pride did not name GOAL specifically in a statement released Saturday, but said they would ban all "corrections and law enforcement exhibitors" for the next several years.
"(NYC Pride) is well aware that the city would not allow a large-scale event to occur without police presence. So their response to activist pressure is to take the low road by preventing their fellow community members from celebrating their identities and honoring the shared legacy of the Stonewall Riots," GOAL President Brian Downey, an NYPD detective, said. "It is demoralizing that Heritage of Pride didn't have the courage to refer to GOAL by name in its announcement, referring to us only as 'Law Enforcement Exhibitors.' The label is not only offensive but dehumanizing for our members."
Under NYC Pride's new rules, law enforcement groups will not be marching in the parade until 2025. At that time, their participation will be reviewed.
Organizers decided to bar law enforcement groups to make Trans marchers and participants of color feel more comfortable about celebrating their identity.
"NYC Pride seeks to create safer spaces for the LGBTQIA+ and (Black, Indigenous and People of Color) communities at a time when violence against marginalized groups, specifically BIPOC and trans communities, has continued to escalate," organizers said. "The sense of safety that law enforcement is meant to provide can instead be threatening, and at times dangerous, to those in our community who are most often targeted with excessive force and/or without reason."
"(We are) unwilling to contribute in any way to creating an atmosphere of fear or harm for members of the community," said organizers, who explained that barring blue uniforms will "challenge law enforcement to acknowledge their harm and to correct course moving forward, in hopes of making an impactful change."
The NYPD said cops will be at the parade "to ensure traffic safety and good order during this huge, complex event."
"Our annual work to ensure a safe, enjoyable Pride season has been increasingly embraced by its participants," the spokeswoman said. "The idea of officers being excluded is disheartening and runs counter to our shared values of inclusion and tolerance."
GOAL was formed in 1982 after NYPD Sgt. Charles Cochrane outed himself delivering testimony on anti-gay discrimination legislation before the City Council. Since then, the group has become a nonprofit civil-rights organization and has advocated for LGBTQ rights from inside the police department for nearly 40 years.
NYC Pride will move forward this year with some in-person events, but the annual Pride March scheduled for June 27 — traditionally a big event in Greenwich Village — will take place virtually due to COVID-19 precautions.
©2021 New York Daily News.
McClatchy-Tribune News Service