Tenn. PD receives new custom winter coats, gift cards from community
The gift of 75 coats embossed with the Mt. Juliet police patch each included a $50 gift card just in time to keep officers on their beats warm for winter
---
By Matt Masters
The Lebanon Democrat
MT. JULIET, Tenn. — Joy Church International on Wednesday gave each Mt. Juliet police officer a new winter coat.
The gift of 75 coats embossed with the Mt. Juliet police patch each included a $50 gift card to just in time to keep officers on their beats warm and comfortable during the cold winter months.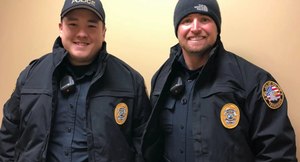 Police Chief James Hambrick expressed his appreciation and gratitude for the gifts in a Facebook video.
"We want to say God bless you and a big thank you for your generosity and the gift that you've given our men and women here at the Mt. Juliet Police Department," Hambrick said. "Your commitment to community and to our police department and this city is just outstanding."
Pastor Jim Frease said that the donation was part of an initiative called COPS, Caring For Outstanding Public Servants, which supports those in public service.
"Their assignment is to serve and protect the Community," Frease said, "We feel like it is our assignment to serve and protect them."
Joy Church Surprises Officers with New Winter Coats

This gift came on a perfect day. Joy Church International Church stopped by & surprised us with heavy winter coats for ALL of our police officers. The gift included 75 coats, stuffed each with a $50.00 gift card, to enhance the comfort and well-being of our officers! Thank you so much!

Posted by Mt. Juliet Police Department on Wednesday, November 14, 2018
McClatchy-Tribune News Service