3 NYPD officers die of COVID-19 within hours of each other
The two detectives and auxiliary captain had all served with the NYPD for more than a decade
---
Rocco Parascandola
New York Daily News
NEW YORK — Two more NYPD detectives and an auxiliary captain have died of coronavirus, Police Commissioner Dermot Shea announced Monday.
Shea identified the fallen as 14-year veteran Det. Jeffrey Scalf, a former U.S. Marine assigned to the Gang Squad in the Bronx, 19-year veteran Det. Raymond Abear of the Queens Special Victims Squad and 30-year veteran Auxiliary Capt. Mohamed Rahaman of the 115th Precinct.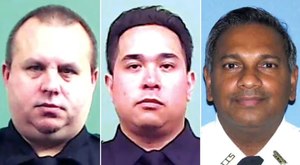 "We are devastated by the continuing losses within our NYPD family and remain steadfast in our vow to never forget what each means to us and to all the New Yorkers we serve," Shea said in a statement.
Twenty-three members of the NYPD, including four detectives and an officer, have died of coronavirus.
The others include five school safety agents, three traffic enforcement agents, two administrative aides. a communications agent and two custodians. Five auxiliary officers, who are volunteers, have also died.
McClatchy-Tribune News Service