Atlanta officer uses COVID-19 hazard pay to buy students tablets for school
"Sometimes these kids see a lot of bad things going on. It's my job to combat the bad and restore the good."
---
Raisa Habersham
Atlanta Journal-Constitution
ATLANTA — For Atlanta police investigator Keith Backmon, being a public servant means helping those in need.
So, when he discovered five children in the southeast Atlanta community he patrols were unable to complete their school work due to lack of resources, he used the hazard pay he's received from working during the coronavirus pandemic to purchase Amazon tablets.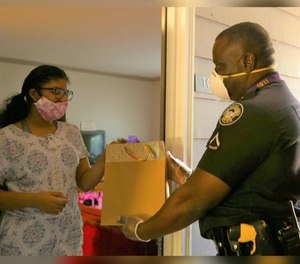 "I don't take my job lightly," he told The Atlanta Journal-Constitution. "People who know me as an officer and personally know that I love people and put them first."
Backmon, 47, delivered the items Wednesday to the children who live at the Villas at Lakewood, where he works part time as a security guard, and Capitol Vanira Apartments where he investigated a shooting. The children were also given $30 to help pay for an internet connection.
In March, the threat of the coronavirus closed schools, forcing students to perform classwork online.
"Most kids in disadvantaged neighborhoods don't have computers or internet access," Backmon said.
Backmon joined the Atlanta Police Department in 2004 and says he's grown close to the communities he patrols. "You have a lot of crime in that area and sometimes these kids get caught up and they see a lot of bad things going on," he said. "It's my job to combat the bad and restore the good."
McClatchy-Tribune News Service