Texas deputy shoots armed inmate at hospital
A Harris County sheriff's deputy shot and wounded an inmate who grabbed an "edged weapon" and held a medical student at Ben Taub General Hospital
---
By Dale Lezon and Keri Blakinger
Houston Chronicle
HOUSTON — A Harris County sheriff's deputy shot and wounded an inmate who grabbed an "edged weapon" and held a medical student at Ben Taub General Hospital, authorities said Thursday.
The outburst of violence struck just before 10 a.m. at the public hospital at 1504 Ben Taub Loop in the Texas Medical Center.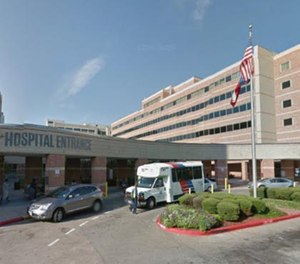 The suspect, identified as Ricky Lynn Hall, 46, is an inmate at the Harris County Jail who had been taken to the hospital for treatment of seizures.
"He was brought here for an evaluation and during his treatment today, our preliminary information is that he tried to grab some type of edged weapon," Sheriff Ron Hickman said at a mid-day press conference outside the hospital.
After snatching the weapon -- which appeared to be the metal band from a set of headphones -- the inmate attacked a medical student, Houston police spokesman Kese Smith told reporters.
A deputy working an overtime job as security on the fifth floor heard a scream and dashed into the suspect's room, where he allegedly found Hall with his arm wrapped around the medical student's neck and the sharp object pressed to her throat.
As the tense stand-off moved out into the hallway, Hall repeatedly threatened to kill the woman.
"He was advising the deputy he was going to kill the medical student unless the deputy shot him," Smith said.
The woman started to struggle and, as Hall put more pressure on her neck, the deputy decided to fire off two shots, wounding the inmate. It was unclear how many times Hall was hit.
Hall went into surgery, which ended before 2 p.m. His condition is unknown.
The female student was not wounded, and no other injuries were reported.
Hall -- who boasts a lengthy criminal record -- had been at the hospital since Saturday and was scheduled to be released Thursday.
He had been held in the jail on a charge of aggravated family violence and a motion to revoke parole, according to sheriff's office spokesman Thomas Gilliland.
"Coincidentally, it's family violence awareness month," Hickman told reporters.
Officials have not released the name of the deputy who fired his weapon.
Currently, there are three investigations underway -by the Houston Police Department's homicide unit, the Harris County District Attorney's office and by the sheriff's office internal affairs division.
McClatchy-Tribune News Service