Mexican police capture top cartel capo 'La Tuta' Gomez
Gomez and his accomplices were arrested without a shot fired, after a months-long intelligence stakeout
---
By Alberto Arce and Katherine Corcoran
Associated Press
MEXICO CITY — Servando "La Tuta" Gomez, a former school teacher who became one of Mexico's most-wanted drug lords as head of the Knights Templar cartel, was captured early Friday by federal police as he tried to sneak out of a house wearing a baseball cap and a scarf to hide his identity.
Gomez was arrested at a house in Morelia, the capital of the western state of Michoacan, along with eight bodyguards and associates toting a grenade launcher, three grenades, a machine pistol and assault rifles, National Security Commissioner Monte Alejandro Rubido said.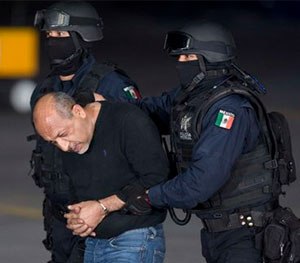 Gomez and his accomplices were arrested without a shot fired, after a months-long intelligence stakeout in which his associates were identified when they gathered on his birthday Feb. 6 with cakes, soft drinks and food, he said.
Rubido said the key break came months ago when agents identified one of Gomez's most-trusted messengers. A series of such liaisons had apparently supplied Gomez with food, clothing and medicine when he was earlier hiding out in the mountains.
Interior Secretary Miguel Angel Osorio Chong said that "we have caught the most important target in the fight against organized crime."
The 49-year-old Gomez led the Knights Templar, a quasi-religious criminal group that once exercised what Osorio Chong called "absolute control" over Michoacan.
The cartel orchestrated politics, controlled commerce, dictated rules and preached a code of ethics around devotion to God and family, even as it murdered and plundered. The gang lost power when the federal government took over the state to try to restore order in January 2014 after vigilante groups rose up against the cartel. But Gomez evaded capture for more than a year, while other Knights Templar leaders were captured or killed.
Mexico's government had offered a $2 million reward for his capture, and he also was wanted in the United States for conspiracy to import and distribute cocaine.
"With this arrest, the rule of law is strengthened in the country and we continue to advance toward a Mexico at peace," President Enrique Pena Nieto said on his Twitter account.
Also Friday, authorities announced that Gomez's younger brother, Flavio, had been arrested in Merida in eastern Yucatan state. Flavio Gomez allegedly handled the gang's finances.
Gomez's capture was a badly needed win for Pena Nieto, who has faced widespread criticism since 43 college students disappeared last fall at the hands of local authorities in Guerrero state and conflict-of-interest scandals emerged involving his personal home and that of the country's treasury secretary.
It coincided with Friday's announcement that Pena Nieto's embattled attorney general, Jesus Murillo Karam, would leave his post after months of scathing criticism over his handling of the students' disappearance as well as a case last June in which soldiers killed more than a dozen suspected criminals after they surrendered.
The week opened with film director Alejandro Gonzalez Inarritu using his Oscar acceptance speech to urge fellow Mexicans to "find and build the government that we deserve." Then Pope Francis warned that drug trafficking would cause the "Mexicanization" of Argentina and Donald Trump urged people not to do business with Mexico.
The DEA congratulated Mexico on Gomez's arrest, saying he led "one of the world's most vicious and violent drug and criminal networks."
The arrest is the latest by Pena Nieto's just over 2-year-old government, which has been aggressive in capturing drug lords, including the biggest capo, Joaquin "El Chapo" Guzman of the powerful Sinaloa Cartel, in 2014. Of Mexico's top criminal leaders, only Ismael "El Mayo" Zambada of the Sinaloa Cartel remains at large.
"It's a very significant capture and (Gomez) is a very important player," said Eric L. Olson, an analyst specializing in Mexican security and organized crime at the Woodrow Wilson Center in Washington.
"The bottom line is these captures are important, but one has to keep them in perspective," he added. "They can unleash a lot more conflict and violence — although it's kind of hard to imagine in the case of Michoacan things getting any worse."
It was not immediately clear who, if anyone, would take over the cartel in Michoacan, where the vigilante "self-defense" groups continue to battle each other and the military and federal police.
The likely result will be an "atomization" of the cartel, said Raul Benitez, a security analyst at Mexico's National Autonomous University. He noted that intensified law enforcement in Michoacan already has forced splinter groups into neighboring Guerrero, where they are fighting to control the heroin trade.
Folksy and charismatic with puffy cheeks and a large nose, Gomez rose from teacher to one of Mexico's most ruthless and wanted cartel leaders, dominating the lucrative methamphetamine trade for a time and controlling his home state through extortion, intimidation and coercion.
Rubido said Gomez was behind the murder of 12 Mexican federal law enforcement officers whose bodies were found in July 2009 while he still operated under La Familia. He said the murdered police officers had been on a mission to capture Gomez. Rubido said Gomez started as a marijuana trafficker around 2000, but by 2007 he was already extorting money from municipal governments in Michoacan.
Outspoken and particularly crafty, Gomez often appeared in videos, wearing his signature baseball cap and salt-and-pepper goatee. Put out during his time on the run, the recordings showed him meeting with elected officials, journalists and other influential people, including the son of former Michoacan Gov. Fausto Vallejo, a member of Pena Nieto's Institutional Revolutionary Party. Vallejo resigned last year for health reasons. Vallejo's interior secretary, Jesus Reyna, and other officials have been jailed for alleged connections to the cartel.
Though his gang started with drugs, it eventually took over the Port of Lazaro Cardenas, one of Mexico's largest seaports, and made more money from illegal mining, logging and extortion than it did from narcotics. Mexico's military took control of the port in late 2013.
People in his hometown of Arteaga in the hills of Michoacan praised him as a humble man who ambled about in sandals and would give poor people money for food, clothing and medical care. They said he mediated disputes such as a traffic accident or child-support battles.
In an interview with a British television crew in January 2014, Gomez said his illegal work was all about business.
"As we told you, we are a necessary evil," Gomez is seen telling a group of townspeople. "Unfortunately or fortunately, we are here. If we weren't, another group would come."
Copyright 2015 The Associated Press