US prosecutors seek execution of marathon suspect
The last federal execution was in 2003
---
Associated Press
WASHINGTON — Federal prosecutors Thursday announced they will seek the death penalty against 20-year-old Dzhokhar Tsarnaev in the Boston Marathon bombing, accusing him of betraying his adopted country by ruthlessly carrying out a terrorist attack calculated to cause maximum carnage.
U.S. Attorney General Eric Holder's decision to press for Tsarnaev's execution was widely expected. The twin blasts last April killed three people and wounded more than 260, and over half the 30 federal charges against Tsarnaev — including using a weapon of mass destruction to kill — carry a possible death sentence.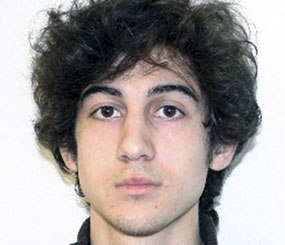 "The nature of the conduct at issue and the resultant harm compel this decision," Holder said in a statement of just two terse and dispassionate sentences that instantly raised the stakes in one of the most wrenching criminal cases Boston has ever seen.
Tsarnaev has pleaded not guilty. No trial date has been set.
In a notice of intent filed in court, federal prosecutors in Boston listed factors they contend justify a sentence of death against Tsarnaev, who moved to the U.S. from Russia about a decade ago.
"Dzhokhar Tsarnaev received asylum from the United States; obtained citizenship and enjoyed the freedoms of a United States citizen; and then betrayed his allegiance to the United States by killing and maiming people in the United States," read the notice filed by U.S. Attorney Carmen Ortiz.
Prosecutors also cited Tsarnaev's "lack of remorse" and allegations that he killed an MIT police officer as well as an 8-year-old boy, a "particularly vulnerable" victim because of his age. They also said Tsarnaev committed the killings after "substantial planning and premeditation."
In addition, they cited his alleged decision to target the Boston Marathon, "an iconic event that draws large crowds of men, women and children to its final stretch, making it especially susceptible to the act and effects of terrorism."
Tsarnaev's lawyers had no immediate comment.
In an interview with ABC, Tsarnaev's mother, Zubeidat, who lives in Russia, said: "How can I feel about this? I feel nothing. I can tell you one thing, that I love my son. I will always feel proud of him. And I keep loving him."
Prosecutors allege Tsarnaev, then 19, and his 26-year-old brother, ethnic Chechens from Russia, built and planted two pressure-cooker bombs near the finish line of the race to retaliate against the U.S. for its military actions in Muslim countries.
The older brother, Tamerlan Tsarnaev, died in a shootout with police during a getaway attempt days after the bombing. Dzhokhar Tsarnaev was wounded but escaped and was later captured hiding in a boat parked in a yard in a Boston suburb.
Authorities said he scrawled inside the boat such things as "The US Government is killing our innocent civilians" and "We Muslims are one body, you hurt one you hurt us all."
Killed in the bombings were: Martin Richard, 8, of Boston; Krystle Campbell, 29, of Medford; and Lu Lingzi, 23, a Boston University graduate student from China. At least 16 others lost limbs. Tsarnaev is also charged in the slaying of the MIT officer and the carjacking of a motorist during the brothers' getaway attempt.
Campbell's grandmother, Lillian Campbell, said she doesn't believe Tsarnaev should live but isn't sure she supports the death penalty, even though she fears he will "end up living like a king" in prison.
"I don't know, because it's not going to bring her back," she said. "I don't even like to discuss it because it makes me so upset. She was my granddaughter and I miss her so much."
Amato DeLuca, a lawyer for Tamerlan Tsarnaev's widow, said: "Whatever he's alleged to have done, presumably he can pay for it with his life. Putting this boy to death doesn't make any sense to me."
Well before the attorney general's decision came down, Tsarnaev's defense team added Judy Clarke, one of the nation's foremost death penalty specialists. The San Diego lawyer has negotiated plea agreements that saved the lives of such clients as the Unabomber and Olympic Park bomber Eric Rudolph.
Legal experts have said that court filings suggest the defense may try to save Tsarnaev's life by arguing that he fell under the evil influence of his older brother.
"I think their focus ... will probably be to characterize it as coercion, intimidation and just his will being overborne by the older brother," said Gerry Leone, a former federal prosecutor in Boston who secured a conviction against shoe bomber Richard Reid.
"They'll, say, talk about how he was a teenager, never been in trouble before, and in many respects, looks like the average United States college student."
Massachusetts abolished its own death penalty in 1984, and repeated attempts to reinstate it have failed in the Legislature. A Boston Globe poll conducted in September found that 57 percent of those questioned favored a life sentence for Tsarnaev, while 33 percent supported the death penalty for him.
Jurors for federal cases tried in Boston are drawn from the Boston metropolitan and eastern Massachusetts — a politically liberal region, but also the part of the state most directly affected by the tragedy.
Two other federal death penalty cases have been brought in Massachusetts. A former veterans hospital nurse who killed four patients by overdosing them was spared the death penalty by a jury. A man accused in the carjack killings of two Massachusetts men was sentenced to death in 2003, but the punishment was overturned and he is awaiting a new penalty trial.
Since the federal death penalty was reinstated in 1988, 70 death sentences have been imposed, but only three people have been executed, including Oklahoma City bomber Timothy McVeigh in 2001.
The last federal execution was in 2003, when Gulf War veteran Louis Jones Jr. was put to death for kidnapping 19-year-old Army Pvt. Tracie McBride from a Texas military base, raping her and beating her to death with a tire iron.
Copyright 2014 The Associated Press