5 considerations for improving officer safety during large-scale protests
A high-profile deadly-force incident can provoke public reaction — and overreaction — in the streets. How can we ensure that we've done all we can to keep officers in those situations as safe as possible?
---
The March 11 incident in which two officers were shot in Ferguson during a protest is a touchstone for all law enforcement. There will be another OIS — or another controversial event — somewhere in America that spurs large-scale public protest, and police crowd control teams will be deployed. In light of what happened to those two cops — both of whom are thankfully now recovering from their injuries — it's fair to say something needs to be done to better protect officers in these volatile crowd control situations. 
While in no way critiquing law enforcers in Ferguson, when the news of the midnight ambush in Missouri hit, I spoke with several of my Police1 colleagues to brainstorm some specific practices, protocols, and procedures to increase officer safety during large-scale protests.
The below considerations are by no means an exhaustive list or a cookie-cutter solution for use everywhere at all times. This is the beginning of what we hope to be a thoughtful conversation among our members to improve the safety of officers who may face such a scenario in the future.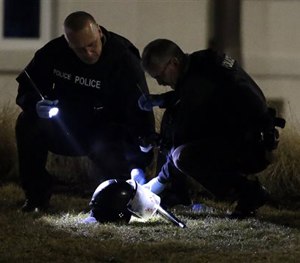 Five Key Considerations
1. When a large-scale event is planned in advance and time permits it, teams of officers should proactively inspect surrounding high-ground (tops of buildings in urban areas, nearby hillsides and tree-lines in more rural areas) for dangers such as:
A. Bottles, rocks, bricks, and other objects protesters could use as projectiles. Buildings frequently have such debris 
B. Probable sniper hides and other areas from which concealed, stand-off armed assault is possible 
2. Whether the large-scale event is planned or spontaneous, agencies should establish proper ICS/Unified Command as soon as possible and sort out jurisdiction/communication issues — close coordination between FD/EMS/Emergency Management/National Guard/NGOs.
3. Avoid putting large groups of officers clustered together — which quickly becomes a target-rich environment — and instead disperse them in pairs or small teams as much as possible, except when large-scale crowd control tactics become necessary. This is not always practical, but it should be given due consideration. 
4. Within ICS, establish a safety officer who reports directly to Unified Command and is responsible for force protection — strictly for the safety of responders, not concerned about the crowd. The safety officer would coordinate the activities of:
A. Roving patrol teams (two officers or more) working out 200 yards+ around the focus point of the incident using a combination of foot and vehicle patrol. These rovers must work in teams so one person does not get isolated.
B. Overwatch teams (sniper/observer) placed in high-ground positions, staying as covert as possible. The primary mission is real-time observation/intel with high-quality optics. 
C. Undercover narcotics officers should saturate the crowd with the use of mutual aid to increase their numbers. They can work in concert with the sniper/observer teams identifying trouble. 
D. Arrest squads/emergency response teams (comprised of four to six or more SWAT operators, if possible) staged to respond to specific threats which may be identified. These officers should be equipped with 2-3 patrol cars, OC, less-lethal projectiles, TASERs and speed cuffs. They can quickly swoop into a crowd, make an arrest based on intel from UCs and overwatch teams, and then make a hasty exit. It would be important to have backup arrest squads ready to support the deployed arrest squad.
E. Finally, the safety officer must remain cognizant of the potential for "alert fatigue" for the individual officer. Long operations — especially at fixed posts — can be a combination of high alertness and boredom. Managing attention and rest cycles periodically can provide better safety and efficiencies.
5. If time and resources allow, an intelligence chief should be appointed within ICS. This individual reports directly to Unified Command. The intelligence chief would take command of the abovementioned overwatch teams and also deploy undercover teams to report real-time intel from within the crowd.
Just Beginning the Discussion
It does not take a clairvoyant to predict that a high-profile deadly-force incident will happen someplace in America in the future. In the current environment, that event is likely to provoke a public reaction — and possible overreactions — in the streets. How can we ensure that we've done all we can to keep officers in those situations as safe as possible? 
While we will never prevent all ambush attacks on our officers, the LE community must be proactive against these threats — and continuing to do what we've always done "just because that's the way things are done" is no longer acceptable. Amid the potential of increasingly violent large protests and riot situations nationwide, we must ask ourselves these serious questions:
• What is the appropriate "show of force" in terms of numbers of officers, equipment used, and the like?
• What do Plan B, Plan C, and Plan D look like, and how quickly can we make the necessary transition?
• What have we done to defuse existing tensions, and what can we do today and tomorrow to that end?