FBI investigating identities of masked rioters at UC Berkeley protest
The masked rioters caused violence at a peaceful protest against Breitbart editor Milo Yiannopoulos
---
By Police1 Staff
BERKELEY, Calif. — Officials are trying to determine the identities of a small group of black-clad rioters who became violent during a protest against a far-right commentator's appearance at UC Berkeley. 
According to the Associated Press, police said a small masked group wearing black showed up as night fell to riot against a talk given by Milo Yiannopoulos, editor of Breitbart News.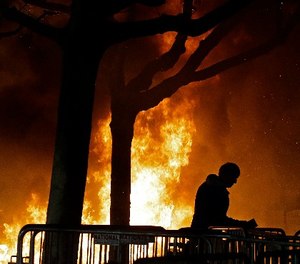 The identities of the masked rioters are still unknown, and the FBI has been called in to assist in the investigation, Berkeleyside.com reported. 
Nearly 1,500 people were protesting peacefully outside the building when the group joined in and began moving metal barricades. Officials said they had thrown the barriers through the building's windows within minutes of their arrival.
University spokesman Dan Mogulof said the suspects "came in a military fashion" and were well-rehearsed. They acted as a "coordinated paramilitary force that essentially raided the campus."
Authorities told the Associated Press the masked group began breaking windows, throwing smoke bombs and flares, and started a large fire outside the building where the appearance was taking place. 
"This was a group of agitators who were masked up, throwing rocks, commercial grade fireworks and Molotov cocktails at officers," UC Berkeley Police Chief Margo Bennet said.
The violence caused $100K in damages.