Dashcam video shows dramatic Ark. traffic-stop shootout
The video shows the car's driver, 29-year-old Luis Cobos-Cenobio, open his door and begin firing at the officer
---
Associated Press
TONTITOWN, Ark. — Police in Arkansas say no one was seriously hurt when a man opened fire on an officer during a traffic stop.
The shootout was captured in a dramatic dashcam video released by the Washington County Sheriff's Office. The sheriff's office says Cpl. Brett Thompson stopped a car Sunday for a traffic violation in Tontitown, about 150 miles northwest of Little Rock.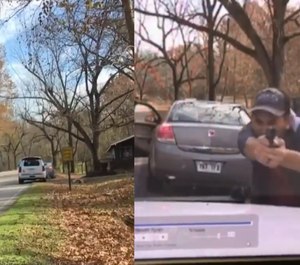 The video shows the car's driver, 29-year-old Luis Cobos-Cenobio, open his door and begin firing at the officer. The sheriff's office says Cobos-Cenobio drove off but was later arrested. He had a shoulder wound and was treated and released from a hospital.
Cobos-Cenobio remains jailed on preliminary charges of attempted capital murder, fleeing and drug violations. Jail records do not indicate whether he has an attorney.
Since there is already bystander footage that has been shared via social media and local news outlets regarding the traffic stop that occurred this past Sunday (Nov 11, 2018), and because of the great public interest it has generated, Sheriff Helder made the decision to share the combined footage that includes Corporal Thompson's dash cam as well. We are so thankful Corporal Thompson, all other officers who were involved, as well as citizens who were in the areas of the incident, were unharmed. NOTE: Below is the news release issued on 11/11 about the incident. The suspect was located and arrested. The female wanted out of the vehicle and it was determined she didn't commit a crime. The suspect is currently being held at the Washington County Detention Center on (4 Counts) Attempted Capital Murder, Act of Terrorism, Fleeing, PCS Marijuana, Possession of Drug Paraphernalia. News Release November 11, 2018 Suspect Shot at Deputy on Traffic Stop, Takes Off, Arrest Made after Pursuit and Exchange of Gunfire, Multiple Agencies Involved On November 11, 2018 at approximately 12:43 p.m., Washington County Corporal Brett Thompson initiated a traffic stop on the driver of a vehicle (green Saturn), traveling northbound on S. Barrington Road near Steele Road in Tontitown, for a traffic violation. The driver refused to stop, then turned eastbound onto Steele Road, slowed down, but continued driving. Corporal Thompson could see the driver moving around in the seat, and could see there was a passenger with him as well. The driver of the vehicle eventually stopped on Steele Road. When Corporal Thompson exited his vehicle, the driver immediately opened his car door and began shooting at Corporal Thompson. Corporal Thompson returned fire and numerous rounds were exchanged before the suspect jumped back into his vehicle and took off, eastbound on Steele Road. He traveled a short distance, stopped and let a female passenger out of the vehicle, then took off again. A Be On the Lookout (BOLO) was issued for the suspect and vehicle. A Springdale Police officer located the vehicle on 71B near Shady Grove Road in Springdale, where shots were exchanged again. The suspect was pursued into Fayetteville, where Fayetteville Police and Arkansas State Police joined the pursuit. The suspect traveled back into Springdale, where he was eventually stopped at Don Tyson and S. Thompson and arrested by Springdale Police Officers. When the suspect, identified as Luis COBOS-CENOBIO, H/M, 29, was arrested, he had a wound to the left arm/shoulder. Springdale Police transported him to Northwest Medical Center, where he was treated and released into their custody. No officers or deputies were injured in the incident. Arkansas State Police will be investigating the officer involved shooting. ####

Posted by Washington County Sheriff's Office on Tuesday, November 13, 2018
Copyright Associated Press. All rights reserved. This material may not be published, broadcast, rewritten, or redistributed.