Calif. pot farm fire reveals a troubling trend
---
Drug rings' operations in the state and federal forests are becoming more sophisticated, officials say.
By Catherine Saillant
Los Angeles Times
SANTA BARBARA, Calif. — Narcotics agents said they had little doubt that the nearly 90,000-acre La Brea fire was started by Mexican drug traffickers who were tending a large, sophisticated marijuana farm planted on the side of a mountain.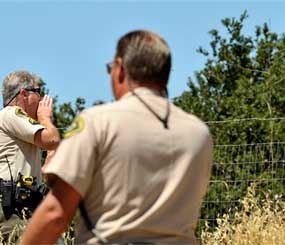 The growers apparently fled as firefighters approached the source of the fire and are still at large, Santa Barbara County Sheriff Bill Brown said. Their abandoned site was similar to other illicit plots planted by Mexican nationals and discovered by drug agents in recent years.
Investigators found 30,000 top-grade cannabis plants ranging in height from 2 feet to 6 feet. Stacks of propane tanks, melted irrigation tubing, empty fertilizer canisters, mounds of trash, a torched cooking stove and a semiautomatic rifle were also found at the Los Padres National Forest location, the sheriff and other agents said.
U.S. Forest Service fire investigators believe a propane-fed camp stove sparked the fire Aug. 8.
"This is the trend," Russ Arthur, a special agent for the U.S. Forest Service, said at a Santa Barbara news conference. "I've been involved in hundreds of arrests and all of the suspects have been Mexican nationals."
Drug rings south of the border send workers to plant in densely forested areas of the U.S. in early spring. The workers care for the plants for four to five months, camping out until it is time to harvest, agents said.
California's state and national forests are favored locations because of the good weather and soil.
The remote pot farm where the La Brea fire started is in a steep, overgrown canyon more than a mile from the nearest road, investigators said.
Growers terraced the plants up a mountainside, diverting a nearby stream to provide drip irrigation to the plants, they said.
The fire burned away from the farm and it appeared that the growers stayed for a while until firefighters drew close. They fled and are believed to still be in the forest, attempting to leave on foot, Sheriff's Lt. Sonny Legault said.
Authorities cautioned rural residents not to approach people leaving the forest because they could be armed.
It's been a record year of pot seizures for the state and federal agents who work with the Santa Barbara County narcotics unit each summer to eradicate illicit farms. So far they have pulled 225,058 plants with an estimated street value of $675 million.
Many of the illegal farms were not far from where the fire started. In late July, agents pulled 113,000 plants from one site, a record for the multi-agency team.
Legault said the increase in seizures is not a result of more law enforcement manpower. He said pot growers have become more sophisticated, planting multiple sites with bigger farms.
Brown agreed, saying it's virtually impossible to get rid of all the marijuana grown in the state's forests.
He suspects that there are many more undetected pot farms.
"The reality is we could have an army out there and not be able to cover all of that ground," the sheriff said.
After a 10-day battle, firefighters on Tuesday were close to completing containment lines around the La Brea fire. Firefighters were still dousing hot spots and making aerial attacks, officials said.
Grounds crews are on the lookout for the fleeing individuals, Forest Service officials said.
Arthur, the special agent, said other smaller fires have been started accidentally in forest lands by suspected drug traffickers.
But the La Brea fire, he said, is the largest.
Copyright 2009 Los Angeles Times