Chicago police reverse course, signal return to bigger narcotics unit
Superintendent David Brown wants the unit to focus more on lengthy investigations into "mid-level" and "upper-level" drug dealers, police officials said
---
By Jeremy Gorner
Chicago Tribune
CHICAGO — The Chicago Police Department plans to add as many as 100 officers to its citywide narcotics unit, police confirmed Thursday, signaling a policy reversal from earlier this year when top officials placed more of an emphasis on supporting neighborhood patrols.
No time frame has been disclosed for when the narcotics unit would be expanded, but police sources said the process would be underway shortly.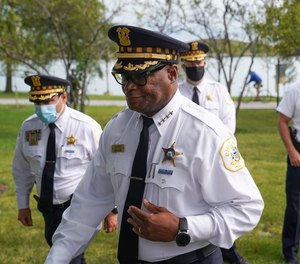 Police spokesman Tom Ahern confirmed the unit would add about 80 to 100 more cops and said Superintendent David Brown wanted the unit to focus more on lengthy investigations into "mid-level" and "upper-level" drug dealers.
The narcotics unit consists of mainly undercover cops who buy drugs as part of investigations into drug trafficking and gang violence in certain areas of the city. Its officers partner with federal law enforcement in many investigations.
Earlier this year, many of those cops got shifted to working under the direction of the department's five area deputy chiefs, who oversee neighborhood patrol functions in CPD's 22 districts. That change took place under a reorganization led by then-interim Superintendent Charlie Beck, who sought to emphasize policing that addressed neighborhood concerns.
Mayor Lori Lightfoot in the past has questioned the effectiveness of CPD's management of specialized police units, including narcotics.
"I think that there are too many people in a bunch of units that look to me like they may be doing redundant functions," Lightfoot said about the specialized units in a December 2019 interview with the Tribune.
"I saw too many times over the course of the summer where district commanders have to get on the phone and call for backup, if you will, for additional resources because two incidents happened on a Saturday night going into Sunday, and they didn't have enough when the third incident happened," Lightfoot said then. "What are they doing? And how are they supporting the frontline work that the districts are doing?"
Meanwhile, Brown, who took over for Beck in April, has expressed desire in recent months to put more effort into longer-term drug investigations as part of his overall strategy to reduce violence in the city.
[READ: 5 tips for safe, legal and effective drug interdiction]
Chicago's 692 homicides through Sunday put the city on pace to record its most killings in a single year since the 1990s. Total shootings are also up by more than 50% over last year.
Aside from saying Brown has sought to "refocus" the department's efforts with respect to the narcotics unit, Ahern, the police spokesman, on Thursday did not get into specific reasons for the policy change.
The move to beef up the narcotics unit also comes at a time when Brown's department has come under criticism for moving many officers from neighborhood patrols to protecting the downtown area after this year's looting episodes.
(c)2020 the Chicago Tribune
McClatchy-Tribune News Service