Some social workers denounce plan to pair with NY police for mental crisis calls
A group of mental health professionals gathered outside Buffalo City Hall, calling the planned partnership 'unsafe and unproven'
---
By Harold Mcneil
The Buffalo News, N.Y.
BUFFALO, N.Y. — A group of social workers, mental health professionals and concerned community members met outside Buffalo City Hall Thursday to denounce Mayor Byron W. Brown's proposal for a new police unit that would pair officers with social workers on mental health emergency calls.
Brown first outlined plans for a behavioral health team Aug. 22.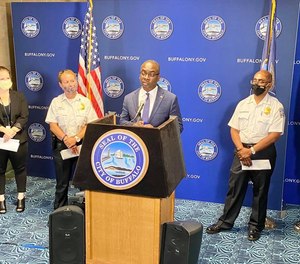 On Monday – two days after a Buffalo Police officer shot and wounded a homeless man who has a history of mental illness – Brown announced the new team would begin next month.
A group of social workers, mental health professionals and members of Agents of Change penned a letter in opposition to that plan, which was sent to the mayor and Common Council members Thursday.
"While embedding social workers into police departments or having social workers accompany police on mental health calls may appeal to the general public, it is ineffective, unsafe and unproven to reduce police violence in mental health crisis situations," said Nicolalita Rodriguez, a clinical social worker, during a news conference on the steps of City Hall.
Advocates for police reform in Buffalo and across the country have called for new strategies for responding to emergency situations involving people who are having a mental health crisis, including pairing police with mental health professionals.
Brown, in a statement Thursday, said research shows there is a place for cooperation between social workers and law enforcement when responding to people in emotional distress.
"Many situations require both a trauma informed care approach by a social worker and the presence of police because the individual may still be a danger to themselves or others, including the social worker who is responding," Brown stated.
[Read: Outcomes improve when law enforcement and mental health services combine forces]
The mayor noted that mental health professionals routinely request assistance from the Buffalo Police when they receive a call for service in a situation that involves a person experiencing a mental health crisis, and said such a joint approach to assisting people in distress was endorsed by the National Association of Social Workers in an op-ed the organization had published in the Wall Street Journal June 15.
Tia Bowman, a social worker with Agents of Change, said at the news conference that the training and education of social workers is grounded in an entirely different ideology from that of police officers.
"The primary mission of the social work profession is to enhance human well-being," Bowman said.
"Social workers do not de-escalate with tools used by police enforcement, such as guns, pepper spray and spit bags. Social workers are trained to de-escalate with the most powerful tools, empathy, compassion and connection," Bowman said .
Danielle Johnson, co-chairwoman of the Buffalo Police Advisory Board, said it would problematic to have social workers working alongside police officers during mental health crises without more in-depth and robust accountability from the police department.
"To propose to place social workers within a system that lacks sound, equitable accountability – especially within the Buffalo Police Department – is irresponsible, and it's putting the folks who are being responded to at risk, as well as the social workers who are responding," Johnson said.
Nancy J. Smyth, dean of the School of Social Work at the University at Buffalo, acknowledged the institution of social work is not entirely pristine in its endeavors, noting that, like the police, social work has a long legacy of racism and of supporting white supremacy.
"And, by white supremacy, I'm not talking about white supremacists. I'm talking about a structure of society and policies that puts white people in power and keeps others out," Smyth said. "This isn't about bad people. It's about bad systems that need to be restructured."
She expressed concern that when social workers partner with other agencies, it is mostly as guests. When one operates as a guest, she said, one has to live by the rules of the host.
"We cannot be helpful in a mental health situation where we have that conflict," Smyth said.
Members of Agents of Change called for the creation of a mobile emergency first responder system to respond to mental health calls. The group also advised the implementation of a Behavioral Health Advisory Council to determine how best to meet the community's mental health crisis needs without the intervention of police officers, and called for the city to provide more funding for crisis prevention and intervention by redistributing funds from the police department.
©2020 The Buffalo News (Buffalo, N.Y.)
McClatchy-Tribune News Service