A family affair: Father-son duo make history after graduating from the police academy together
Winston and Christian Edmondson now work in different cities, but their unbreakable bond makes it feel like they're on every shift together
---
Last month, three police officers in Flower Mound, Texas, escaped serious injury after they were fired upon by a man during a 10-hour standoff. Officers were responding to a 911 call regarding a woman's 60-year-old husband who was reportedly making suicidal threats. While on scene, the officers attempted to make contact with the man, but their efforts were unsuccessful.
After an hour on scene, the man, who was inside his home alone, started shooting at officers. Three officers – Sergeant John Styne-Burns, Officer Gregory Hall and Sergeant Adam Quintana – were hit. Officer Hall, a four-year veteran, was injured by glass after his ballistic shield was hit by a bullet. Sgt. Quintana, a 14-year veteran, was struck by bullet fragments in the neck, face and shoulder. Sgt. Styne-Burns, a 13-year veteran, was shot in the chest, but a ballistic plate carrier absorbed the bullet's impact and protected him from serious – potentially fatal – injury.
The man eventually surrendered and was taken into custody. All three officers, who are now recovering from their injuries, were treated and released from the hospital.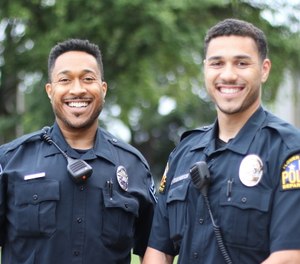 It was a long, chaotic night for the department.
Just a little north of Flower Mound, in Lake Dallas, Officer Winston Edmondson was on shift and heard about the shooting. His immediate concern was if his son, Christian, a Flower Mound police officer, was on duty.
"I get so busy that I don't always know what Christian's schedule is," he said. "I didn't know if he was working or not."
He tried calling and texting Christian, but he wasn't answering.
"That was very unusual. I had to wait, pray and see," he recalled.
He was later relieved to find out Christian wasn't on duty – he was returning to Flower Mound from out of town.
"I saw and heard about everything that went down," Christian said. "I was driving and wasn't looking at my phone when he was trying to get ahold of me."
This real-life situation wasn't something this father-son duo learned about while going through the police academy together.
A law enforcement career path
Christian, 23, is a "6'5 giant," his dad, Winston, said.
"I'm only 6'2, so I'm already looking up to him," he joked.
At 43 years old, Winston decided to not only literally look up to his son, but also follow in his footsteps. The two made history at Tarrant County College's Law Enforcement Academy in Fort Worth, Texas, after attending and graduating from the academy together.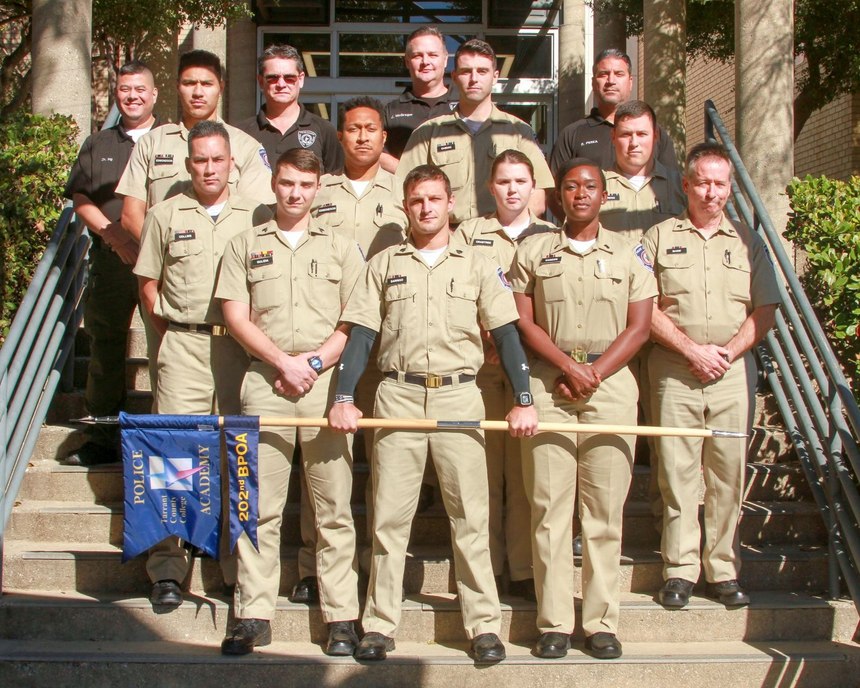 Winston was inspired and motivated to enter law enforcement while campaigning for the mayor of Lewisville: "I was promoting the police department and just really grateful for what they did. I was trying to figure out how we could get them what they needed. And when I didn't win, I realized that I just spent so much time talking to and learning about the police department that I felt like, 'Wow, you know what, I could see myself in that role.'"
The opportunity to serve, he said, would be one he wouldn't have to get elected for.
"And as I'm talking myself into doing this, I was also talking to Christian saying, 'Hey, this is something I think you should consider,'" he said. "I was really hyping up this career path to him."
Christian had just graduated from Pittsburgh State University in Kansas with a degree in business. The Edmondson's had lived in Flower Mound since Christian was in 7th grade. He attended Flower Mound High School and was a star basketball player.
"I played basketball for four years in college and, as I was going through my business program, I wasn't quite sure what avenue I wanted to pursue with my business degree," Christian explained. "My dad recommended that I apply for the police department. He thought I'd be good at policing."
To see if it was the right career path for him, Christian contacted a few school resource officers at Flower Mound High. They gave him a tour of the Flower Mound Police Department and the rest, as they say, is history.
"I applied right away and got hired pretty early on," he said. "The hiring process began right when COVID-19 started really taking hold. I wasn't sure if I was going to be able to get through. I actually had my physical and written exam the day after my last college basketball game."
Christian finished the hiring process last June.
"And then I got hired and they sent me to Tarrant County College's Law Enforcement Academy," he said.
The news was a surprise to Winston, who knew Christin was interested but never thought he was completely sold on the idea of joining the law enforcement profession. "All of a sudden, he tells me, 'Hey, dad, I just got hired at Flower Mound and I start the academy in a week. It surprised me. I wasn't ready for that. I wasn't expecting that."
Winston didn't skip a beat – he drove to the academy and asked if it would be possible to attend at the same time as Christian: "They said, 'I don't think we can do it, but if you want to try, we'll work with you and see if we can do it – but just don't get your hopes up.'"
After dotting the i's and crossing the t's, Winston was given good news: he got everything done just in the nick of time.
"I think they just knew how special it would be for a father and son to go through the academy together," he said.
That once-in-a-lifetime experience, Winston said, is one he'll never forget.
Second- and third-generation police officers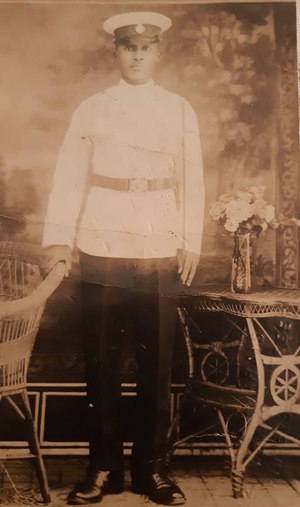 Winston, a father of four and officer with the Lake Dallas Police Department, said he's always felt a calling for service: "I'm a people person. I love talking to people, hearing their stories and I just have a genuine interest anytime I interact with somebody."
From an early age, he thought politics was the answer. But when that dream didn't become a reality, he knew he could find another way to serve.
"I was talking to police officers and asking them what tools they needed to better do their jobs in Lewisville. Over and over again they kept saying, 'We don't need any specific tools, we just need more police officers,'" he said. "I started looking at several cities that were similarly sized in population to Lewisville – and I compared all those cities in Texas – and we were just completely understaffed."
Little did he know that policing is in his blood.
"I actually just recently found out that my grandfather was a police officer in Jamaica," he said. "That blew me away. I'm a second-generation police officer and Christian is now a third-generation officer."
Attending the academy with his son, Winston said, was one of the "most rich and meaningful memories I have with him."
But they didn't let the fact that they were related get in the way of competing against each other: "It was just us when it came to studying and there were long nights because those tests were hard," Christian said. "We pushed each other, especially when it came to the defensive tactics. He wrestled in college and while he's older now, he's still in good shape and he got in better shape going through the academy."
Their goal remained the same throughout their time in the academy: to make each other the best police officers that they could be.
A son giving his father lifesaving advice
Even though they've graduated from the academy and are working at separate departments, that genuine desire to make each other better hasn't fallen to the wayside. In fact, Christian was able to help his dad save someone's life during the winter storm that hit Texas in mid-February.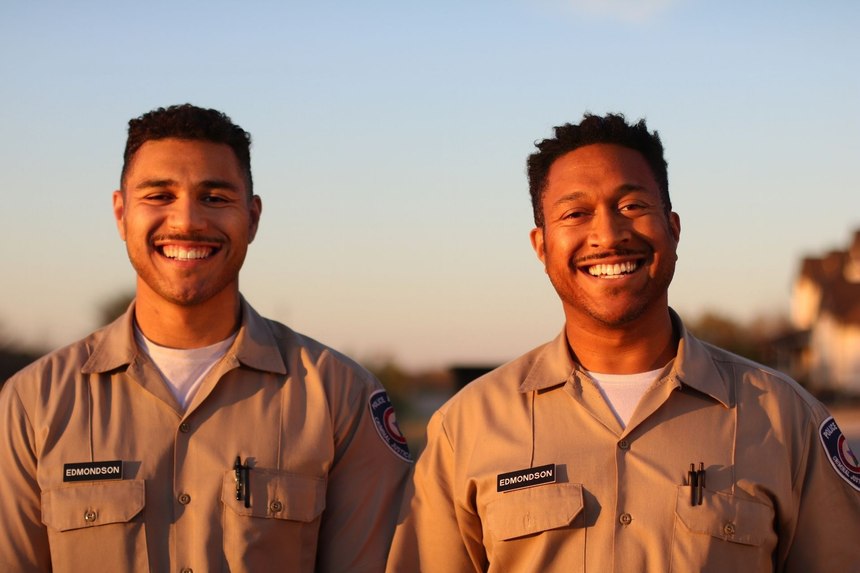 "As soon as Christian got out of the academy, he went straight to work. For me, I got out of the academy and went through the hiring process. I was a little bit behind him. By the time I did get the job and was trying to get loaded up with all my equipment, he had already been working and had some experience that he could help me with," Winston said.
To be as effective and safe as possible, Winston asked Christian's advice on how to lay out his duty belt and what to keep in his various pockets. His son helped him make adjustments and moved some things around.
"I ended up having an extra pocket and I was trying to figure out what I should put in that," Winston said. "He said, 'OK, you're all decked out. If you've got an extra pocket, why don't you get the Narcan out of your backpack and just keep it in your pocket. That way if something comes up, you don't have to run back to the car and get it out of your bag.'"
That seemingly small tweak made all the difference as Winston was out on patrol at night when most of North Texas lost power due to frigid temperatures.
"We got a call about a man who was having a heart attack," he recalled. "When we arrived on scene, he had fallen out of his car. The road was just covered with ice. We had parked a distance away and trudged across the ice, almost slipping every few steps."
Once they were able to reach the man, Winston's training officer started CPR.
"But we quickly determined that it might be an overdose. My training officer says, 'We need to go back to the car and get the Narcan.' And I said, 'No, don't worry about it. I have it right here.'"
Winston pulled the Narcan out of his pocket and it brought the man back to life immediately.
"We saved him," he said. "We couldn't detect a pulse. He wasn't breathing. And then we brought him right back. If we had to run back to the car, over the ice, get the Narcan, and then try to get back over the ice and back to him, that could have made all the difference in the world. We might have lost him."
The advice Christian gave him, he said, saved the man's life.
"My son was trying to help me be as strategic, tactical and efficient as possible. He suggested that I always keep Narcan in my pocket instead of my duty bag. Christian helped affect my job – and someone's life."
That kind of support, Winston says, is second to none – especially since they're both new officers.
'The Edmondson boys on patrol'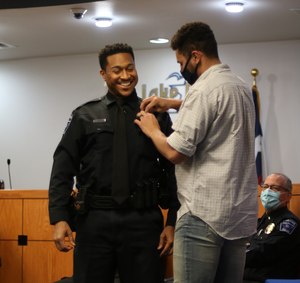 Christian's relationship with his dad has always been close, but it has become even tighter after going through the academy together.
"When he walks into a situation, it doesn't feel like you're being talked to by a police officer," Christian said. "He's got a big smile on his face. He's very personable. It just feels easygoing, but, at the same time, he's not compromising officer safety. The way he speaks to people really calms situations down. He's very well equipped to get down on people's level and figure out what the root of the problem is. I try to model that sort of communication."
Their closer-than-average age difference, Winston says, has made their father-son bond unbreakable.
"He still comes to me for fatherly advice, but a lot of the time we just feel like peers," he said. "What I've always respected and admired about Christian is he just has complete honesty and integrity in all of his interactions. And that's something that, even though I'm his father, I try to emulate and incorporate as well."
Now, Winston is focused on recruiting another member of his family: his 21-year-old son, Holden, a senior at Texas A&M University.
"I love it when we're both on overnight patrol. Christian is down south watching over Flower Mound and I'm just a little north in Lake Dallas. I need Holden to hurry up and graduate from Texas A&M so he can get hired in Lewisville and hold down the middle," he joked.
However, Holden may have other plans – he's currently looking into the fire academy.
"If we can get him to become a first responder and join us that way, I think that would be neat," Winston said.
Regardless of which direction his second-born son decides to take, Winston says he's grateful to have someone to share the stressful moments with. "With Christian, we talk about in detail everything that we've experienced. It's so nice to have that. We can lean on each other."
Flower Mound PD and Lake Dallas PD have different patrol cycles. Sometimes, Winston and Christian work the same nights, and sometimes they don't.
But on the nights where they're both working – even though they're miles apart in different cities – Winston says it feels like they're working together: "The Edmondson boys on patrol. Helping people and fighting crime. It feels good."