DHS warned state officials of potential violence at Charlottesville rally
The Department of Homeland Security issued a confidential warning to law enforcement three days before the deadly Charlottesville rally
---
By Police1 Staff
CHARLOTTESVILLE, Va. — The Department of Homeland Security issued a confidential warning to law enforcement about potential violence in Charlottesville, three days before the deadly rally. 
The Aug. 9 report obtained by Politico said that white supremacists and antifa had previously clashed twice before in Charlottesville at a May 13 white nationalist rally and a KKK gathering on July 7. The report also stated that the Aug. 12 rally would be "among the most violent to date" between the two groups.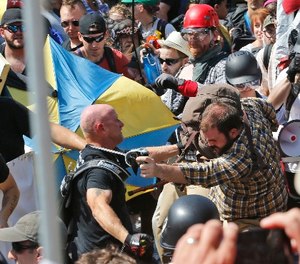 The assessment warned that both "anarchist extremists and white supremacist extremists" were calling online for supporters to "be prepared for or to instigate violence" at the rally.
"They predicted it," a senior law enforcement analyst told Politico. "[Some from both sides] were saying, "'All right everybody, go get your weapons, and we're gonna go kick their asses.' And that's exactly what happened in Charlottesville."
According to the Associated Press, one woman was killed when a white nationalist drove his car into a crowd of counter protesters. Two state troopers were killed later in the day in a helicopter crash and more than 20 people were injured.
When Politico contacted federal, state and local authorities for comment about the DHS report, they said they were aware of the warnings and had taken the appropriate steps to prepare for potential violence. 
City Manager Maurice Jones said that the "city and state police prepared for the worst-case scenarios" and "were well aware of the potential for violence."
"It's the reason why we sought to move the rally to a more amenable space outside of our dense downtown, where police could more effectively address the safety concerns," Jones said. "We hoped that the groups that descended on our community would not engage in violence, but they did, and the police responded in an effort to restore order."
On Aug. 24, Charlottesville officials met in a private meeting to discuss "personnel matters" regarding the deadly rally. Mayor Mike Singer said that the events "raised serious questions about the city's handling of security, communications and governance." The council called for an independent review of all decisions related to the Aug. 12 rally, the torch-lit rally held the night before and a July KK rally.