Congressman: Painting in US Capitol tunnel will remain, despite criticism from cops
The St. Louis County Police Association is urging Rep. William Lacy Clay to have the painting taken down
---
Belleville News-Democrat
WASHINGTON, D.C. — A controversial painting portraying police as animals will remain in place, says U.S. Rep. William Lacy Clay, the St. Louis Post-Dispatch reports.
The painting by David Pulphus, who was a high school student when he created "Untitled #1", hangs in a tunnel connected to the U.S. Capitol building. Pulphus' artwork won an annual art competition sponsored by Clay, a Democrat from St. Louis, back in May.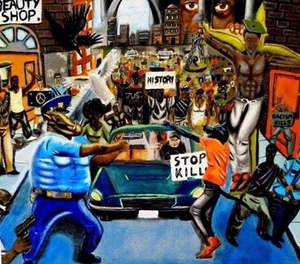 The painting portrays "a colorful landscape of symbolic characters representing social injustice, the tragic events in Ferguson, Missouri and the lingering elements of inequality in modern American society," according to a May news release on Clay's website.
The St. Louis County Police Association is urging Clay to have the painting taken down. Association President Joe Patterson told the Post-Dispatch the painting "is an extraordinarily disrespectful piece at a minimum." He said the painting degrades the "bridges" police have built between themselves and the people of Ferguson.
But Clay says the painting will remain as an expression of free speech.
"The U.S. Capitol is a symbol of freedom, not censorship. The young artist chose his own subject and the painting will not be removed," Clay said in a statement issued Friday.
©2016 the Belleville News-Democrat 
McClatchy-Tribune News Service