N.J. officer dies trying to rescue her 6-year-old daughter from house fire
A GoFundMe page for the family has raised nearly $220K after the officer and her daughter died from their injuries
---
By Spencer Kent
nj.com
HAZLET, N.J. — The fire tore through their home within seconds.
It was Friday around midnight when William Montanaro awoke to fire alarms blaring.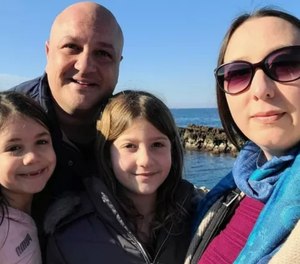 He ran downstairs and saw flames on the first floor of his Hazlet home.
The 39-year-old ran back upstairs to get his family — his wife, Jacqueline, two young daughters and dog.
Within seconds, smoke engulfed the house. It was impossible to see.
He, Jacqueline and their 8-year-old fought their way outside, but 6-year-old Madelyn was still in the home. William rushed back in, as did Jacqueline.
"When I rushed back into the house for Madelyn, I became enveloped in a massive amount of thick, hot black smoke," William said in a statement issued by his brother, Domenico Montanaro, a reporter for NPR.
"Without hesitation, Jackie then charged in with a mother's love and the courage of a police officer fueling her attempt to save our daughter," William said in the statement, referring to Jacqueline's job as a supervisory U.S. Customs and Border Protection officer at Newark Liberty International Airport.
With smoke everywhere, William fought his way outside again, but Jacqueline and Madelyn were unable to escape.
"I am heartbroken. I have lost the love of my life – my beautiful wife, Jackie – and my sweet, loving, spunky little girl, Madelyn," William wrote in a statement.
"Jackie was a hero."
Madelyn was taken to Cooperman Barnabas Medical Center in Livingston. Jacqueline was initially taken to Bayshore Medical Center in Holmdel and later to Cooperman Barnabas.
"There was CPR done on both of them. And they were both in critical condition," Domenico told NJ Advance Media in a telephone interview on Sunday. However, both later died from their injuries. Jacqueline was pronounced dead at 1:40 a.m. on Saturday. Madelyn was pronounced dead about 12 hours later.
It's still unclear what caused the fire.
A spokesman for the Monmouth County Prosecutor's Office told NJ Advance Media in a previous report: "Although we do not believe the fire is suspicious in nature, the fire is under active investigation."
Domenico has been fielding calls from reporters, speaking for his grieving brother and family.
"He said he woke up to fire alarms going off (and) went downstairs; the bottom floor — one of the walls on the side of the house that's charred now was already in flames," Domenico said. "Smoke was already billowing through the house, and he ran back upstairs to get the family out. And within seconds, the entire second floor was covered in black smoke. They basically had 10 seconds to try to get out of the house before they were covered. And they did what they could."
In his statement, William said, "I am now focused on getting my daughter the support and help she's going to need, so we can rebuild our lives together."
"That's really his focus right now," Domenico said. "Luckily, he's got a great support team."
He said his brother was out on Sunday with an organization called Hound Hunters to look for the family's dog, Duchess, a copper-colored Goldendoodle, who remains missing.
"A search continues for our beloved dog, Duchess," William said in the statement. "Thank you to our neighbors and the scores of people, the Hazlet Police Department and surrounding communities' law enforcement who have been, and continue to, press to find her."
A GoFundMe page organized by the Customs' officers union, Customs United Service Alliance, had raised over $180,000 as of Sunday evening.
"Just for myself, I'm extremely proud of my brother," Domenico said. "I think that he's doing everything he can to keep the family together. He's really the kind of person who everybody relies on, and now he's going to need everybody else's support."
©2023 Advance Local Media LLC.
Visit nj.com.
Distributed by Tribune Content Agency, LLC.
McClatchy-Tribune News Service