Fla. sheriff's department desperately needs deputies
Manatee County Sheriff says manpower is dangerously low
---
By Claire Aronson
The Bradenton Herald
MANATEE, Fl. — Unincorporated Manatee County has 78 fewer sheriff's deputies than it should based on its population, Sheriff Brad Steube told commissioners Wednesday.
The FBI cites a national average of 2.2 deputies per 1,000 residents while Manatee County sits at 1.9 deputies per 1,000 residents, Steube said. And with a constantly growing population as new housing developments are approved, this ratio could worsen if new deputies aren't hired.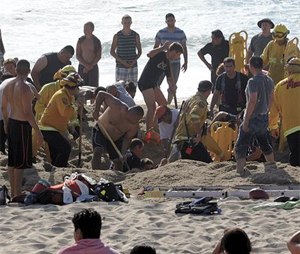 "If we don't start addressing this now, we are going to be so far behind when these homes start to be built," Steube said as he presented his proposed $110 million budget for 2015-16.
Steube has been requesting more deputies for years. He was able to hire four corrections deputies this fiscal year but did not receive requested funding for road deputies. Now, he is asking for 12 more deputies — eight road deputies and four corrections deputies as part of his budget, which is 6.2 percent more than last year.
Steube cited all the developments approved by the Manatee County Commission since 2008, pointing out Manatee County's average of deputies per residents is also below the U.S. county average of 2.6 and South Atlantic average at 3.1.
"Whatever ratio you want to use, we are short deputies," Steube said. "We must have an adequate number of personnel to serve the citizens."
In 2008, the sheriff's office answered an average of 634 calls per day. In 2014, the sheriff's office received an average of 975 calls for service a day or 53.7 percent more.
Even so, Manatee County crime decreased 6 percent in 2014 from the year earlier. But so far in 2015, Steube said, crime numbers are much higher.
"From Jan. 1 to date, violent crime is up 26 percent," he said.
Steube's proposed budget includes funding for a 5 percent salary increase.
Manatee County Administrator Ed Hunzeker is recommending a 4 percent salary increase for all constitutional offices, which includes the sheriff's office.
Steube said he is OK with the 4 percent raise.
Hunzeker is not recommending funding for any new deputies, however, which would put the sheriff's office budget at $107 million, a 3.1 percent increase. The commissioners flagged the request for additional deputies for more discussion July 30. Flagging the requests increases the total amount commissioners have flagged so far to more than $3.8 million.
Commissioner Robin DiSabatino said she's "really, really nervous because of the world we are in right now."
"We need to make sure we are staffed, we have the assets, we have the information and the tools to defend you and defend us and make everything safer here in Manatee County," DiSabatino said.
With additional deputies, Steube said he would add a fourth patrol district. One of three existing districts covers all of Palmetto, Ellenton, Parrish, Lakewood Ranch and areas east of Interstate 75, Steube said.
"That would be the first thing we would like to do, but we need to have the manpower," Steube said.
Every year, any money not spent by the sheriff's office must be given back to the county, which in previous years has returned it to the sheriff's office to pay expenses. Steube said he is requesting between $1.2 million and $1.6 million to be rolled back to his office again as it has in previous years.
The sheriff also asked for $175,876 more for inmate meals since the jail is receiving fewer donations.
Hunzeker and Steube have yet to meet about the sheriff's office budget, which consumes about 20 percent of the county's total budget. Commissioner Vanessa Baugh said they need to talk and come up with a plan.
"You are going to have to grow every year because we are growing," Baugh said. "We are not where we want to be financially by any means. We haven't even gotten back to 2007 time period. Obviously the need is there."
Hunzeker said he didn't recommend any new tax-supported positions because the county is still spending more than it is bringing in and dipping into reserves.
"You will deepen the hole but you can do that," Hunzeker told the commission. "It's your prerogative. It's your budget. The only thing I can do is show you what that does to the long-term finances of the board."
Steube read comments from officers during a more than two-hour presentation about solutions to agency challenges.
"With new growth in businesses and also recovery of housing market, our county will continue to grow," Steube read. "New subdivisions are going up everywhere. Our population will continue to grow as well as our need to patrol, prevent and respond to crime."
Copyright 2015 The Bradenton Herald
McClatchy-Tribune News Service