NYC DA: 23 indictments and 16 arrests in Queens gang takedown
Mayor Adams uses takedown as a rebuttal to the 'defund' movement and calls out officials seeking to reduce the NYPD budget
---
By Michael Gartland
New York Daily News
NEW YORK — An NYPD investigation sparked by the fatal shooting of an innocent churchgoing Queens mother resulted in the indictments of 23 alleged gang members and 16 arrests, prosecutors announced Tuesday.
Mayor Adams, who made cracking down on crime a central focus of his administration, also used the indictments Tuesday to highlight the disconnect he sees between city residents and some of the elected officials who represent them.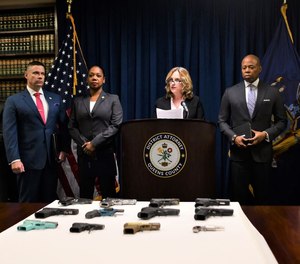 The probe, which was announced by Queens District Attorney Melinda Katz, the mayor and NYPD Commissioner Keechant Sewell, focused on two subsets of the Crips gang that were feuding with each other over a personal beef that eventually escalated into gunplay, violence and murder.
The feud ultimately led to the death of Gudelia Vallinas, 37, a Mexican immigrant who was making a run to the store in March 2021 only to be killed at the intersection of 48th St. and Broadway when gunmen squeezed off seven rounds intended for a member of a rival gang.
"The reckless criminality we saw during this investigation is the kind of lawlessness that has killed law-abiding citizens of New York that have been caught in the crossfire of gang violence," said Katz during a press conference inside Queens Criminal Court. "We saw that in the heartbreaking loss of Ms. Vallinas. She was crossing the street in Woodside to go buy milk for her two young children when she was gunned down by a gang member shooting at a rival."
Police arrested Benaiah Reid and Dajuan Williams for the shooting, which prompted Katz to open a separate investigation into the broader feud the bloodletting stemmed from.
The beef jumped off three years earlier on Aug. 4, 2018, when Isiah King of the Woodside Houses-based "8 Trey Crip" set attacked Dijuan Price, 32, of the Astoria Houses-based "Rollin' Crip" gang, according to the Queens DA. The next day, Price and his brother Elijah, 26, packed handguns with them on a trip to the Woodside Houses looking to exact revenge. They couldn't find King, so they shot his friend, Jaffvonta Reid, in the leg, according to Katz.
On Tuesday, the Price brothers were both indicted on attempted-murder charges. Sixteen arrests in all have been made in connection with the investigation, and Katz vowed that the seven remaining people who've been accused would soon be in handcuffs.
After the Price brothers' attack against Reid, the war between the gangs escalated with barbs traded in rap videos through social media and, according to Katz, at least 17 more acts of gun-related violence.
Adams, who's been critical of the drill rap subgenre in the past, called out that form of conflict resolution Tuesday — as well as social media for playing a part in the violence between the Astoria and Woodside Crips subsets.
"What happens in social media impacts our society, and social media — they have yet to grasp what they're doing to our communities," he said. "These gangs, taking them down, that's the message we want to send to residents of this entire city. We're not going to surrender our streets to violence."
Adams also called out what he sees as hypocrisy from elected officials who have been calling for a reduction in the NYPD budget. Specifically, but without naming any names, he attacked those who call for the NYPD to be defunded, while their constituents are asking for a more robust police presence.
"I have not been in one location where residents said disband, defund, take away from our police. I've heard just the opposite: 'Where are my cops?'" he said. "What is interesting is that there are those who say they want to defund the police have been reaching out to us for personal security, have been reaching out to us to get more police in their communities.
"I said well, you know, just as you hold a presser to say defund, hold a presser saying that you want personal security," he said. "You can't have a public posture and then a private conversation."
Adams declined to provide names when asked who had requested personal security measures.
Many of the shootings that marked the war between Crips from Astoria and Woodside happened in broad daylight and within feet of young children.
According to Katz's office, gang members Devine Moore and Michael Shepherd opened fire on June 14, 2020, next to an ice cream truck as a little girl danced, just steps away. A day later, in retaliation for the attack, rival gang members Jaheen Stephenson, Tahji Alexander and Delante Aiken opened fire at a Woodside Houses' courtyard with several small children and other unsuspecting bystanders present.
Sewell noted that the press conference marking Tuesday's indictment is not her first, and she promised it would not be her last.
"We will be back with more cases and more arrests wherever violent criminals threaten our community," she said.
©2023 New York Daily News.
Visit nydailynews.com.
Distributed by Tribune Content Agency, LLC.
McClatchy-Tribune News Service