Temple gunman urged white supremacists to act
A member of "Hammerskins Nation," shooter told skinhead group to stop hiding behind computer screens
---
By Scott Bauer and Todd Richmond
Associated Press
OAK CREEK, Wis. — The gunman who killed six worshippers at a Sikh temple in the U.S. played in white supremacist heavy metal bands and posted frequent comments on Internet forums for skinheads, repeatedly urging members to act more decisively to support their cause.
"If you are wanting to meet people, get involved and become active," Wade Michael Page wrote last year. "Stop hiding behind the computer or making excuses."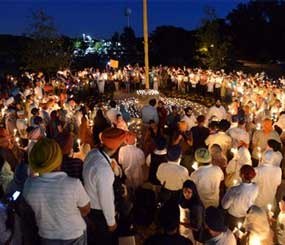 After Page strode into a Sikh temple Sunday with a 9mm handgun and multiple magazines of ammunition, authorities were trying to determine if the 40-year-old Army veteran was taking his own advice when he opened fire on strangers.
Detectives said they might never know for sure. But the picture of Page that began to develop — found in dark corners of the Internet, in records from a dodgy Army career and throughout a life lived on the margins — suggested he was a white supremacist who wanted to see his beliefs advanced with action.
Page, who was shot to death by police, described himself as a member of the "Hammerskins Nation," a skinhead group rooted in Texas that has branches in Australia and Canada, according to the SITE Monitoring Service, a private intelligence firm that searches the Internet for extremist activity.
Between March 2010 and the middle of this year, Page posted 250 messages on one skinhead site and appeared eager to recruit others. In November, Page challenged a poster who indicated he would leave the United States if black Republican candidate Herman Cain was elected president.
"Stand and fight, don't run," he implored.
The bald, heavily tattooed bassist trained in psychological warfare before he was demoted and discharged from the Army more than a decade ago. After leaving the military, he became active in the obscure underworld of white supremacist music, playing in bands with names such as Definite Hate and End Apathy.
Still, Oak Creek Police Chief John Edwards cautioned Monday that investigators might never know what motivated the attack on the Sikh Temple of Wisconsin.
The six dead ranged in age from 39 to 84 years old. Three people were critically wounded, including a police officer. Hospital officials said they all remained in critical condition early Tuesday.
Page entered the temple as several dozen people prepared for services. He opened fire without saying a word.
The president of the temple died defending the house of worship he founded. Satwant Singh Kaleka, 65, managed to find a simple butter knife and attempted to stab the gunman before being shot twice, his son said.
Amardeep Singh Kaleka said FBI agents hugged him, shook his hand and told him his father was a hero.
"Whatever time he spent in that struggle gave the women time to get cover" in the kitchen, Kaleka said.
With their turbans and long beards, Sikhs are often mistaken for Muslims or Arabs and have inadvertently become targets of anti-Muslim bias in the United States.
Mark Potok, a senior fellow at the Southern Poverty Law Center, a civil rights organization, described Page as a "frustrated neo-Nazi" whose bands' sinister-sounding names seemed to "reflect what he went out and actually did." Their lyrics talked about genocide against Jews and other minorities.
Page joined the military in 1992 and was a repairman for the Hawk missile system before switching jobs to become an Army psychological operations specialist in a battalion at Fort Bragg, North Carolina.
In "psy-ops," Page would have trained to host public meetings between locals and American forces, use leaflet campaigns in a conflict zone or use loudspeakers to communicate with enemy soldiers.
He never deployed overseas in that role, Army spokesman George Wright said.
Page was demoted in June 1998 for getting drunk on duty and going absent without leave, two defense officials said, speaking on condition of anonymity because they were not authorized to release information about the gunman.
He was discharged later that year.
Page's former stepmother said she was devastated to learn of the bloodshed.
"He was a precious little boy, and that's what my mind keeps going back to," said Laura Page, who was divorced from Page's father around 2001.
In Wisconsin, Page rented a room in Kurt Weins' house in June, saying he had recently broken up with his girlfriend and needed a place to stay. Weins said Page stayed in that room all the time, declining invitations to watch TV with him.
"We talked, but it was really about nothing," Weins said. "He seemed pretty calm. He didn't seem like the type to raise his voice."
Suburban Milwaukee police had no contact with Page before Sunday, and his record gave no indication he was capable of such violence.
Copyright 2012 Associated Press