The safest ways to interact with gang members
Criminals enjoy home field advantage in their 'hoods, so gang units need tactics to negate this
---
During professional football season, we have a pool in the office where we pick who is going to win the following week's games. When I can't decide who to pick in a particular game, I generally go with the home team. Home field advantage in sports is a significant factor that can't be underestimated.
This is also true in police work. Criminals — especially gang members — enjoy a certain amount of home field advantage when we deal with them in their 'hoods. Officers, especially those in gang units, need to do whatever they can to negate this advantage.
Here are some suggestions...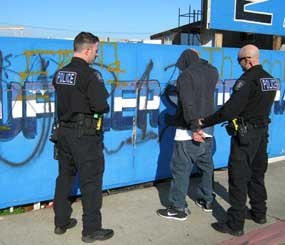 360-Degree Coverage
As cops we learn from day one to contact suspects in teams and use "contact and cover" when dealing with them. That's good advice, but it doesn't necessarily take into account threats in the surrounding areas. I had an epiphany after returning from Iraq in 2003.
As a soldier we always had 360-degree security when contacting subjects. If a squad of ten soldiers was dealing with a group of Iraqis, four might deal with the group, while the other six formed a perimeter, facing out, scanning for threats.  It works over there, so why not do it over here?
Gangsters are at home in their 'hoods, and the surrounding neighbors may be sympathetic to them or hostile towards law enforcement.
Like the "12th man" in football, the crowd  can have an adverse effect on your game.
Leave No Stone Unturned
Gangsters have learned over the years not to keep stuff on them that they aren't supposed to have. When contacting a group in gang turf, it's important to check the surrounding area for contraband. Buildings, cars, trees, benches, and other places are great for hiding stuff. You may not be able to pin it on someone, but at least the item is taken off the street. If it's drugs, you cut into the gangsters' good times and profit margin. If it's a gun, you might have saved someone's life.
It's important to check thoroughly. I recently had a case where I arrested a gang member for selling drugs from his truck. I arrested the dealer and towed the car. I found out from the tow truck driver that the gangster's girlfriend came to the tow yard and paid a fee to access the car. She removed an item from behind the car stereo and left. I don't know what the item was, but I think it's safe to say it was something illegal...
Strength in Numbers
Generally, gang suppression units have the luxury of multiple members, which allows for greater flexibility. There is a built-in "contact and cover" element that automatically increases officer safety. When the situation permits a lawful detention, having multiple officers on scene allows for cutting off escape routes. Consider assigning officers specific tasks (for example left seat passenger as contact officer, right seat passenger as foot chaser, etc.).
Also think about leaving the driver behind the wheel in case a suspect flees. If an officer gets in a foot pursuit, the officer in the vehicle can parallel it and provide assistance. This works really when the suspect gets tired and the chasing officer hands the baton to the officer in the vehicle, who then takes over responsibility of the foot chase.
Don't Chase the Rabbit
An old trick in street-level narcotics sales is to have a "rabbit" run from the block when law enforcement approaches. Officers go after the subject, not realizing that it's a ruse designed to shift the focus from the drug dealer (who didn't run) to the "rabbit" (the subject with no drugs who ran). The problem here is being able to determine whether or not the subject is actually breaking the law (has a warrant, dope, gun) or if he is there to fool you.
Prior surveillance may provide insight into who is doing what: who holds the dope, who sells the dope. Being armed with that knowledge may save officers from an unnecessary foot chase that allows the real criminal to escape.
Don't Forget Terry
Remember that Terry v. Ohio allows for a limited warrantless pat search of a subject when certain conditions are met. It is intended to help officer safety when dealing with possible armed threats. I'm a big fan of pat searches for a variety of reasons.
First and foremost, safety.
Second, under the right conditions, it can lead to arrests for other types of contraband.
And third, it sends a message to the non-law abiding community that their behavior won't be tolerated. I think Terry searches are one of the most under-utilized resources in law enforcement. 
It's a good idea to define where high crime areas are before deploying, and to make sure that everyone on the team understands when and where they can do a Terry search.
Coaches design specific plays tailored to away games. These take into account the other team's advantages in playing at home. When dealing with gangsters on their turf, officers need to prepare in the same way. It's harder to win on the road, but that's what great teams do.