Fla. governor proposes stiff penalties on protesters committing illegal acts
Under the bill, those who damage property or inflict injury could face felonies, and mandatory jail time if they hit a cop
---
By Theresa Braine
New York Daily News
TALLAHASSEE, Fla. — Florida Gov. Ron DeSantis on Monday announced a sweeping array of legislative proposals aimed at raining "a ton of bricks" on protesters who break the law.
Under the bill, protesters who damage property or inflict injury could be hit with felonies, and sentenced to mandatory jail time if they hit a law enforcement officer. Blocking roadways, disrupting restaurant business and yanking down monuments are the types of crimes covered in the proposed bills.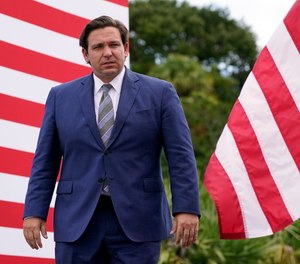 Roadway obstruction during an unpermitted protest would become a third-degree felony, and drivers would not be liable "for injury or death caused if fleeing for safety from a mob," the proposal states.
"If you do it, and you know that a ton of bricks will rain down on you, then I think people will think twice about engaging in this type of conduct," DeSantis said, according to Politico.
Protesters who commit such crimes would also be ineligible for state benefits or employment.
"What we're sending the signal is, Florida is kinda off the table for you," DeSantis said, according to WPTV-TV. "It's not gonna end well for you here."
In addition, local municipalities that funnel funding away from police would be barred from receiving state grants.
The bill, the Combating Violence, Disorder, and Looting and Law Enforcement Protection Act, will be up for consideration during the 2021 legislative session. DeSantis spoke at the Polk County Sheriff's Office in Winter Haven, flanked by law enforcement officials and top Republican legislators, the Miami Herald reported.
The Florida branch of the American Civil Liberties Union (ACLU) called the proposal "undemocratic and hostile to Americans' shared values," pointing to its potential to force protesters and the issues they are highlighting off the streets and out of the public eye.
The upshot, the ACLU said, would be to "criminalize protesters and city governments demanding police accountability."
"This effort has one goal: silence, criminalize and penalize Floridians who want to see justice for Black lives lost to racialized violence and brutality at the hands of law enforcement," ACLU Florida executive director Micah Kubic said in a statement. "Instead of acknowledging and addressing police brutality and violence in our state, Gov. DeSantis wants to use his power to throw more people into the criminal legal system by enacting overly harsh criminal penalties for protesters who are exercising their constitutional right to take to the streets and demand justice."
The U.S. has been racked with protests all summer, as video after video surfaced of police killing Black people. Initially sparked by the Memorial Day death of George Floyd at the hands of Minneapolis cops, the protests became a nationwide outcry against police brutality and institutionalized racism.
While property was also damaged, a report earlier this month showed that 93% of those protests had been peaceful and nondestructive, according to CNN.
DeSantis implied that overall, protesters are a menace.
"You see videos of these innocent people eating dinner and you have these crazed lunatics just screaming at them and intimidating them on a public accommodation," DeSantis said, according to CNN. "You aren't going to do that in state of Florida."
©2020 New York Daily News
McClatchy-Tribune News Service