Ill. gov. tells sheriffs 'they won't be in their job' if they don't enforce gun ban
"You don't get to choose which laws you comply with in the state of Illinois," Gov. J.B. Pritzker said
---
By David C.L. Bauer
Jacksonville Journal-Courier
GREENE COUNTY, Ill. — A battle is brewing over a state ban of some assault-style weapons and high-capacity magazines, with more county sheriffs vowing they won't arrest violators and the governor warning that could put their jobs in jeopardy.
Illinois on Tuesday became the ninth state to ban so-called assault weapons — including all AK-type rifles; AK-, Mac- and UZI-style pistols; and dozens of other firearms. House Bill 5471 prohibits the sale, manufacturing, possession or purchase of specific rapid-fire rifles and pistols or attachments.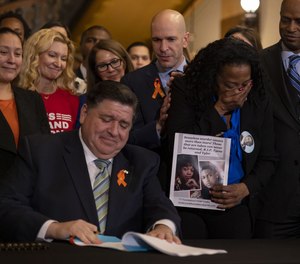 Those who have any of the firearms can keep them but will be required to register them with the state.
Gov. J.B. Pritzker signed the bill, nicknamed the Protect Illinois Communities Act, into law Tuesday.
Backlash was swift, with about five dozen sheriffs from counties across the state putting their name on similarly worded messages saying they would not enforce a law they considered unconstitutional.
Pritzker fired back with a warning that such a stance puts the law enforcement officials' jobs in danger.
"You don't get to choose which laws you comply with in the state of Illinois," Pritzker said during a news conference.
"Of course, there are people who are trying to politically grandstand, who want to make a name for themselves by claiming they will not comply," Pritzker said. "But the reality is that the state police is responsible for enforcement, as are all law enforcement all across the state, and they will, in fact, do their job or they won't be in their job."
That hasn't slowed sheriffs from joining the fray, with many saying they will not conduct any investigations or arrests or assist any outside agencies in investigations or arrests of violations of the law or house anyone in their jails who is arrested for non-compliance of the regulations.
Greene County Sheriff Rob McMillen was among the first in west-central Illinois to say in a letter to the community that he expects the constitutionality of the law will be challenged in the courts. Until that happens "and the constitutionality issue is decided, I am going to follow my morals, beliefs and obligations concerning protecting the rights of Greene County's citizens."
He said he was taking a stance "supporting the citizens against a government that wants to trample on their rights."
Similar notices have been posted by Calhoun County Sheriff William Heffington, Cass County Sheriff Devron Ohrn, Macoupin County Sheriff Shawn Kahl, Pike County Sheriff David Greenwood, Schuyler County Sheriff Bill Redshaw, Sangamon County Sheriff Jack Campbell and Scott County Sheriff Thomas R. Eddinger. The sheriffs of Brown and Jersey counties had not issued any statements as of Thursday afternoon.
The Illinois Sheriffs' Association has been opposed to the measure since its proposal and said it remains opposed to the law that passed.
[EARLIER: 'I will not let laws strip ... citizens of their constitutional rights and not take a stance': Ill. sheriff won't arrest over banned firearms]
"We are always supportive of new tools, techniques and laws that assist us in preventing and holding accountable those that wage efforts of harm and violence on others. However, this law does not do that," the association said in a statement.
Pritzker said during a signing ceremony that the law will help in the fight against gun violence in the state.
"For the past four years, my administration and my colleagues in the state Capitol have been battling the powerful forces of the NRA to enshrine the strongest and most effective gun violence legislation that we possibly can," Pritzker said. "I couldn't be prouder to say that we got it done. And we will keep fighting — bill by bill, vote by vote, and protest by protest — to ensure that future generations only hear about massacres like Highland Park, Sandy Hook and Uvalde in their textbooks."
Critics, including most Republicans in the state Legislature, contend the ban violates the Second Amendment.
"These types of laws put law enforcement officers and prosecutors in a very precarious box, with us having to decide to not enforce laws that were passed by government bodies," McMillen said. "I believe that this stance will be the stance of many other sheriffs throughout the state of Illinois, so we are unified in this movement to protect the rights of our respective citizens."
The Illinois State Rifle Association said it will go to court over the legislation on behalf of the state's 2.5 million gun owners.
Pritzker has said he is confident the law will survive any legal challenges.
___
(c)2023 the Jacksonville Journal-Courier (Jacksonville, Ill.)
Visit the Jacksonville Journal-Courier (Jacksonville, Ill.) at www.myjournalcourier.com
Distributed by Tribune Content Agency, LLC.
McClatchy-Tribune News Service