5 things to know about traveling with a gun
Here's an overview of what to keep in mind when traveling with and transporting a gun from an airport
---
By Sarah Calams, Police1 Staff
After an active shooter killed five people and wounded eight at the Fort Lauderdale airport Friday, the Associated Press cited an official as saying the shooter had arrived from a flight with his gun checked in a bag. After he claimed the bag, he allegedly loaded the gun in a bathroom and began shooting. This prompted one main question: Can you check and transport a gun at an airport?
According to the Transportation Security Administration (TSA), you can transport a checked unloaded firearm in a locked hard-sided container.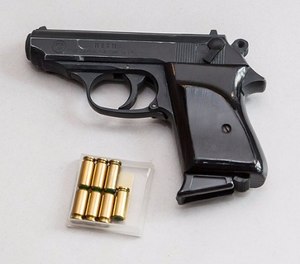 Guns are not allowed in carry-on bags, even though that doesn't stop some from trying. Last week, the TSA discovered 53 firearms in carry-on bags around the nation. Shockingly, 42 of the firearms were loaded and 15 had a round chambered.
Here's an overview of what to keep in mind when traveling with and transporting a gun from an airport.
1. What are the regulations regarding firearm transport?
First, you must declare the firearm to the airline when checking your bag. The container, according to TSA, must be securely locked. You must declare the firearm orally each time you present it for transport.
2. What about ammunition?
When checking firearms, you must unload them. Ammunition can be transported in checked baggage. Magazines, ammunition clips, bolts and firing pins must be securely boxed or in a hard-sided case with the firearm. Small arms ammunition can be carried inside the hard-sided case. Airlines, according to Beretta, allow up to 11 pounds of ammunition.
3. Does federal law protect airline travelers with firearms?
Yes. However, these four things must be present: the person must lawfully possess and carry a firearm; the firearm must be unloaded and inaccessible from the passenger compartment of the person's vehicle en route to the airport; the firearm must be transported directly from a personal vehicle to an airline check-in desk without interruption in the transport; the firearm must be carried to the check-in desk unloaded and in a locked container.
In case of questioning, it's important to always bring printed out documents with airline and TSA policies regarding firearms transportation.
4. Do any airports frown upon firearm travelers?
According to the NRA, New York and New Jersey airports, including JFK, La Guardia, Newark and Albany, enforce state and local firearm laws against airline travelers.
5. Can law enforcement officers fly on an airplane armed?
According to the TSA, the law enforcement officer must be employed as a federal officer and armed in accordance with an agency-wide policy. They must also be sworn and commissioned to enforce criminal or immigration statutes, authorized to have the weapon in regard to an assigned duty and must have completed the TSA Law Enforcement Officer Flying Armed Training Course.
For additional requirements and examples of officers that would not meet the standards, check the TSA website for further information.