Cop's skin cancer scare: Any officer is at risk
When one officer reported back to his fellow officers that his blemish was melanoma, several more found that they, too, had skin cancer
---
Officers spend between eight and twelve hours a day on duty. Forty hours a week — that's 2,080 hours each year that police are making traffic stops, patrolling on foot, bicycle, or motorcycle, or in their vehicle, and that's excluding any overtime.
Training, physical and mental preparation and resources like body armor and tactical equipment are sought by police in an effort to reduce officer deaths caused by shootings, vehicle incidents, heart attacks, and the many other dangers that plague police officers.
But one of the simplest precautions is often overlooked.
San Jose Officer Christopher Warren was being treated for an on-duty injury when his doctor recommended he see a specialist about a brown spot under his eye. He had asked a previous doctor about the blemish and was told that was all it was — a blemish.
In fact, Warren had melanoma, a malignant tumor that begins in the pigment-producing skin cells, or melanocytes of the skin. After going back to his department and telling his story, several other officers got checked, and four more officers had skin cancer.
An estimated 76,690 new cases of invasive melanoma will be diagnosed in the U.S. in 2013, and 86% of those cases can be attributed to sun exposure. It can appear as small as a grain of sand and grow slowly.
"While on duty, wear a hat and use sunscreen," warns Warren. "Baseball caps won't work. You need to wear a full brimmed hat that covers your ears."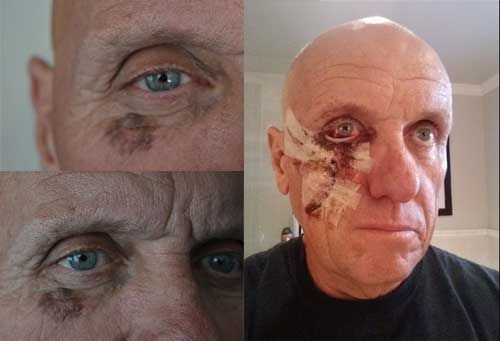 San Jose Officer Christopher Warren, before and after his medical procedure.​ (PoliceOne Image)
Regular daily use of an SPF 15 or higher sunscreen reduces the risk of developing Melanoma by 50 percent.
Warren shared these photos and his story in the hopes that awareness of the dangers of policing without sun protection would be spread, and officers would start taking action and visit their doctors with any concerns.
You spend countless hours training to ensure your safety; you carry pounds of extra equipment so that you're always prepared. A tube of sunscreen in your patrol vehicle and your locker and two more minutes of your time are worth the peace of mind that you're protecting yourself from even the most silent of killers.