Va. GOP proposes 'enormous' raise for state police
The police increase will address concerns that the agency has been losing troopers to better paying local police jobs
---
By Travis Fain
Daily Press
NEWPORT NEWS, Va. — Legislative budget writers will include $6,000 raises for Virginia State Police and a 3 percent pay bump for general state employees in their budget rewrite, they announced Wednesday.
The police increase will address concerns that the agency has been losing troopers to better paying local police jobs. Wayne Huggins, head of the Virginia State Police Association, called the raises "enormous."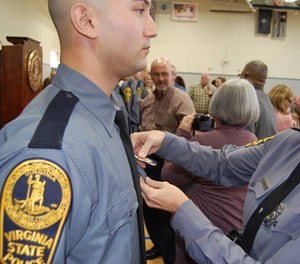 Local deputies will also get pay increases aimed at addressing compression issues in sheriff's office pay scales. Local teachers will not be included in the legislature's plans for raises, though local systems may get funding with enough flexibility to use state funds to help cover raises already paid out of local funds, House Appropriations Chairman S. Chris Jones said.
All but about a dozen systems in the state have already boosted teacher salaries, said Jones, R-Suffolk. Teachers from across the state demonstrated at the statehouse earlier this week, though, calling for state raises.
Jones and other budget writers, including Senate Finance Co-Chairmen Thomas K. "Tommy" Norment and Emmett Hanger, acknowledged that there will be cuts elsewhere in the state budget to pay for these raises, but those details may not be released for another week and a half. The boosts won't rely on tax increases, and the state won't raise it's annual revenue estimate to inflate the budget beyond totals Gov. Terry McAuliffe announced in Virginia, Republican budget writers said.
Rising monthly revenues, after tax collections last year came in lower than expected, have boosted confidence in the overall health of the state's two year spending plan, though.
The raises will be paid with the first paychecks of July, Jones said. Unlike raises placed in the budget last year, then cut, there's no trigger rolling back these raises if the state doesn't hit revenue targets.
Addressing state police pay was a top issue for the Republican majority in the legislature, and providing a pay increase for other state employees was a priority as well. McAuliffe had proposed a one-time bonus in December, but that was rejected in favor of the permanent increases.
Law enforcement salary issues are coming to a head for state leaders, even as budget writers look for the cuts to fill a revenue hole.
The head of the Virginia State Police has told legislators that troopers are leaving the force in big numbers for better paying jobs, including jobs at local departments.
The starting salary for state police, now about $36,200 a year, will increase to $43,000. Pay steps above that will also increase about $6,000, with the 3 percent raises added in on top of that.
Legislation that would have increased annual vehicle registration fees by $1.25, with the money earmarked for state police, has been killed off as a result.
Hanger, R-Mount Solon, said there will be "unmet needs" in the budget, in part because of efforts to identify funding for raises, but funding for mental health reform will remain a priority.
Hanger also said that the legislature will stick with the governor's schedule for the state's Accelerated Sales Tax program, which requires businesses to remit sales taxes early each June, the last month of the fiscal year. That gives the state an end-of-the-year revenue boost, but is widely considered a budgeting gimmick and is not popular with retailers.
Other details of the budget House and Senate leaders have been crafting will be rolled out February 5, commonly referred to as "Budget Sunday" at the statehouse.
___
(c)2017 the Daily Press (Newport News, Va.)

Distributed by Tribune Content Agency, LLC.
McClatchy-Tribune News Service