Cool new police tech tracks eyes to assess drug, alcohol impairment
The newest DRE device from Ocular Data Systems is on display at IACP 2014
---
Richard Studdard — a retired Los Angeles Police Department sergeant who is largely responsible for the development of drug recognition procedures — is still very much in the DRE (drug recognition expert) game. At IACP 2014 I visited with Studdard, and discovered that his company, Ocular Data Systems, has just come out with a cutting edge technology device to assess and record a subject's eyes for alcohol or other drug impairment. 
It's called the DAX, and it's an evolution of the company's early impairment recognition and recording device. It's handheld, lightweight, and although it the device looks a little space age, it's really actually quite simple. It is comprised of a video screen, an infrared video camera, an integrated pair of pen lights aimed at each eye, and a molded physical interface where the subject's forehead, nose and eyes would go — this piece also includes some measuring devices also recorded on the video. 
As the officer tests the eye movements and responses of a subject, he or she simply puts the device on the subject's face, that FST is recorded on video which can then be played back as evidence when seeking a conviction.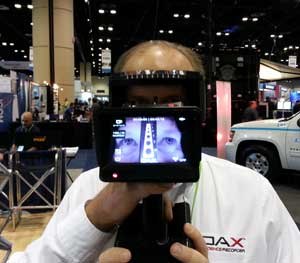 The device may also offer benefit as an excellent training tool for young officers who have not yet had enough exposure to real subjects impaired by drugs and alcohol to be true experts at Horizontal Gaze Nystagmus (HGN).
The device is priced within range of budget-challenged departments at around $5,000. Early customers include California Highway Patrol, Arizona Highway Patrol, NYPD, and the State of Colorado.
If you're attending IACP, you can visit them at booth #2485. If not, you can get further information at their website.