IACP Quick Take: Strategies for surviving a high-profile incident
How does one forecast for a storm that is at once highly unlikely and grimly inevitable?
---
For good or for bad, it is undeniable that every police department in America is one controversial officer-involved shooting away from becoming the next national news sensation. The national narrative about policing has been fundamentally altered by the public outcry following incidents in places like Ferguson, Baltimore, and Cleveland.
Even when an OIS is found to be legally justifiable, the Twitterverse and the 24/7 national mainstream media paint police in a negative light. The onslaught can be nearly immediate, and the options for a police leader suddenly thrust into that limelight may seem somewhat limited. 
So the question becomes, how does a police leader plan for the prospect of that kind of event taking place in their jurisdiction? How does one forecast for a  storm that is at once highly unlikely and grimly inevitable? At IACP 2016 in San Diego, a panel of experts addressed this very issue. The following is a precis of one segment of that discussion.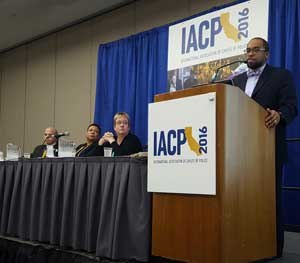 Speakers: 
Stephanie O'Malley, Denver Department of Public Safety
Ed Medrano, Gardena (Calif.) Police Department
Ellen Emery, Ancel Glink
Keenon M. James, U.S. Department of Justice, Office of Community Oriented Policing Services (COPS)
Quick Summary:
On June 2, 2013, officers of the Gardena (California) Police Department were alerted by dispatch that a 211 (robbery) had just occurred, and the suspects had "unknown weapons." 
A Gardena sergeant swiftly located subjects the fit the description sent out by dispatch. Other officers quickly arrived. The three male subjects first complied with commands to keep their hands visible above their heads. 
Then, when one of the men seemed to be reaching down toward his waistband, officers opened fire, killing one and wounding another.
In an instant, the dynamic of police-community relations in Gardena, California suffered a tectonic shift. 
Before Gardena Police Chief Ed Medrano addressed the assembled IACP attendees, he played the dispatch audio exchange. He then showed a dash-cam video of the incident — one view of the three captured. 
Sitting there, one could feel just about everyone in the room grimace as the shots rang out. 
"As we're watching this video," Chief Medrano said, "it's probably pretty difficult to watch. You can imagine yourself as being police chief or police executive, rolling in the early morning hours after you've been notified that an officer-involved shooting happened, and your first opportunity is to see this video. What's your initial reaction?"
A still silence settled over the room. 
A soft voice — barely more than a whisper — filled the void: "Oh, sh*t."
"Yeah, I won't say it," Medrano said, "but it's 'Oh S.'"
Key Takeaways:
Chief Medrano proceeded to discuss what he had done before the incident, concurrent with the incident, as well as after the incident. 
1. Before. "If this kind of incident occurs in your community and you have not already had a level of community engagement that gives some level of trust to your department, you're starting off on the wrong foot," Medrano said. "Is your city — your community members — going to give you the benefit of the doubt? This video is very difficult to watch even for police officers. Can you imagine what community members who have no understanding about use of force tactics would think of it? I heard the term assassination."
The first thing Medrano suggests is that agencies increase community engagement. Educate the community about the post-OIS investigation process. Let them know who will be conducting an investigation in the event of an OIS. Give the community information about the process before an event even happens. 
"Talk about the physiological things that happen to the officer. We have to discuss all of these things that we take for granted in law enforcement and educate your community," Medrano said. 
Medrano suggests using a Citizens Advisory Board, Community Watch Meetings, or other community outreach efforts to get the word out about all of the things that go into an OIS before something happens. That investment will pay dividends if and when that big controversial event takes place in your jurisdiction. 
Additionally, a crisis communication partner needs to be identified well in advance of any big event. That team has to know what the department is all about, as well as what the community is like. This takes advance planning — it cannot be done "on the fly" in the immediate aftermath of an event. 
2. During. Medrano said that when he saw that video for the first time, he did not have a good reaction to it. He said that he relied on a trusted partner to talk him down, and get him back to an even keel, because what the community needed in that moment was a calming, reassuring, understanding voice. 
"You have to show that level of compassion and empathy," Medrano said. "You have to show empathy. A loss of life occurred at the hands of the police department. You really have to make sure that you make a special effort to show compassion and try to deal with it from that perspective. You have to admit responsibility if you have to. I know a lot of you in the room say, 'You do that, it's going to put on a lot of zeros on a civil lawsuit.' It may, and it may not. But is it the right thing to do? Sometimes it is."
Medrano said he believes community members appreciate that compassion and forthrightness. He said he also thinks that despite the prevailing narrative in the mainstream national media, most people still understand that policing is a tough job, and that police officers are human, and that humans make mistakes. 
Medrano then talked further about the media. "Get in front of it. The media is going to show up — what's going to be your posture? Is it going to be 'No comment'? I think in 2016 nobody's doing that. You're going to have to tell people what you know, what you don't know, and what you don't know you don't know."
3. After. "After the incident is over you've got a lot of work to do," Medrano said. "You've got to coordinate with the outside investigators, the District Attorney's office, maybe the FBI. You need to communicate with your executives, your employees, your city council, your city manager. Let them know what is going on and ensure that the messaging is the same."
Medrano also talked about monitoring — and, at times, responding to — social media posts in the aftermath of a major event. He said that there are times when social media may spin out of control with inaccuracies, and it may be best for the department to respond with a correction. 
However, Medrano cautioned against getting caught in the vortex of social media battles. "Be careful. Don't continue the story beyond what it is. Sometimes I see agencies continuing on when something is already dying down — information has already been communicated to the community to their satisfaction and they continue the story themselves and that can be really dangerous. 
Memorable Quote:
"When this video went viral, you can imagine thousands of emails and tweets and phone calls. It was pretty bad, and of course as a law enforcement executive I was pretty concerned. So we dove into who exactly was doing this. We had five members of our community that we could identify. A city of 65,000. Five people responded. Three of them were positive, one of them was negative, and one of them was kind of in between."
Chief Medrano sent a lieutenant to the house of that one person who was so negative, to meet face-to-face with that individual and explain the situation — to hear that person's concerns. 
"That same Christmas," Medrano said, "he got a Christmas card from the lady. That doesn't happen by accident. That happens because we've been highly engaged in the community for a decade." 
Other Observations:
The Gardena Police Department had for a long time been conducting significant community outreach prior to the incident involving Ricardo Diaz-Zeferino on that early summer night in 2013. Had they not been so deeply engaged in building relationships, the outcome of that incident could have been much different. The lesson to be learned from this case study is that departments everywhere have the opportunity to do work today to build the bridges you may need one day in the unforeseeable  future. 
That work simply cannot happen "right of bang."